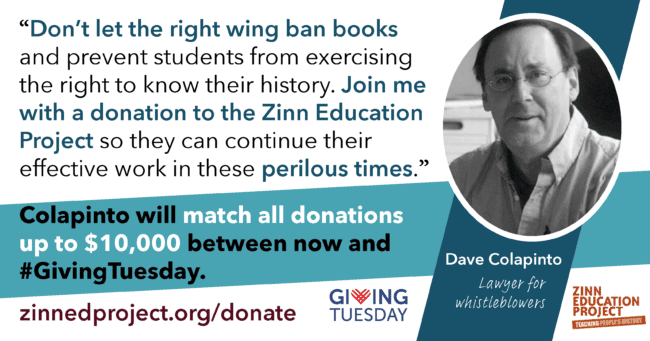 Right wing attempts to criminalize the teaching of people's history make the Zinn Education Project's work all the more essential.
With a small staff, the Zinn Education Project helps teachers teach the truth about civil rights, Reconstruction, and other struggles that students have a right to know about.
Your contribution (small or large) will help ZEP continue its work in response to the right wing's well-funded censorship campaign.
Don't let them ban books and prevent students from exercising the right to know their history. On this Howard Zinn Centennial, please join me in financially supporting the Zinn Education Project so they can continue their effective work in these perilous times. — Dave Colapinto
Colapinto was Howard Zinn's student at Boston University and currently works to defend whistleblowers.
Thanks to the generous support of Dave Colapinto, all donations made on #GivingTuesday will be DOUBLED up to $10,000.