The past few weeks have seen record heatwaves and toxic air due to wildfire smoke. The news media have run endless stories about the number of deaths from the heat and the need to stay indoors to avoid the smoke. But the mainstream media remain silent about climate change and fossil fuels.
FAIR noted a similar phenomenon in April when a report on the projected collapse of a crucial deep ocean Antarctic current was met with media silence.
Shatter the Silence: Make Some Noise
In the face of media silence, educators must fill the gap. Teachers can equip students to recognize the breadth of the climate emergency, to grasp how it is pounding so unequally around the world, to probe its social and economic causes, and to come to see themselves as activists for a just society and a stable climate.
We offer #TeachClimateJustice campaign resources, including free downloadable lessons, recommended books and films for the classroom, articles, and a sample school board climate justice resolution.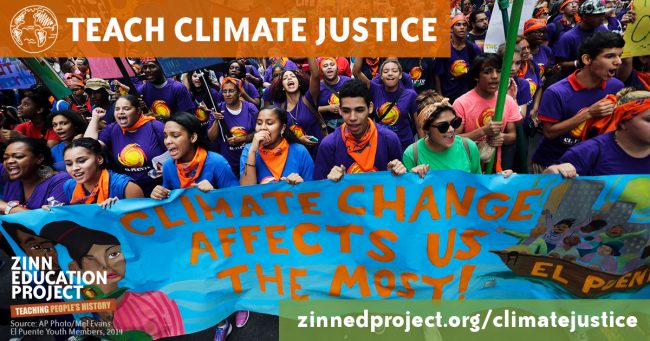 ---
The Zinn Education Project has filled a huge gap in my Earth and Environmental Science curriculum. Climate change will be the most relevant scientific topic to their adult lives and giving them the perspective that the Zinn Education Project resources afford them is crucial to making them significantly better informed citizens for a better future. — Shawn Moore, high school science teacher, Lenoir, North Carolina
---
Teaching about climate justice requires bravery. The right's anti-history education laws replicate the media's climate silence in the classroom. As Bill Bigelow explains in a Rethinking Schools column, the laws deny students climate literacy. The curricular gag rules label lessons on racism as "divisive." Yet, racial inequality — and the struggle against it — is at the heart of the climate crisis.
We ask everyone to defend the right to teach truthfully. Our future depends on what young people learn today.