I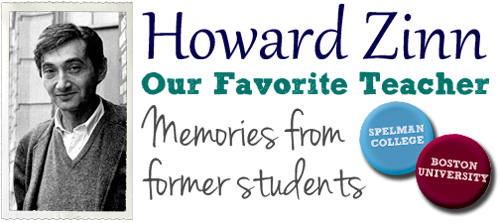 n celebration of what would have been Howard Zinn's 91st birthday on August 24, 2013, we are thrilled to share this collection of personal remembrances from Zinn's students at Spelman College in Atlanta and Boston University.
Howard Zinn's deep love for people weaves through these stories—-along with his desire to honor their experiences, their struggles, and their successes. As Cornel West said, "He was in love with everyday people," and, it's clear he was in love with the possibility of justice.
Zinn's work to engage students with history so that they could make sense of what was happening in the world—-and also make sense of what was happening in their own lives—-is core to these student tributes, and is a foundation of the Zinn Education Project.
"In the spirit of education via the 'act,' one of my fondest memories of Howard's teaching is his advocacy for us to stand up for our beliefs on the picket line."
Read more.
"He was a very creative, magical teacher. He taught us how to think for ourselves, to analyze, to question what we read, and speak truth to power. He was just engaging in every way. . ."
Read more.
"Howard Zinn was magical as a teacher. Witty, irreverent, and wise, he loved what he was teaching and clearly wanted his students to love it also."
Read more.
"He told me about why he and Roz decided this was a country worth fighting for. . ."
Read more.