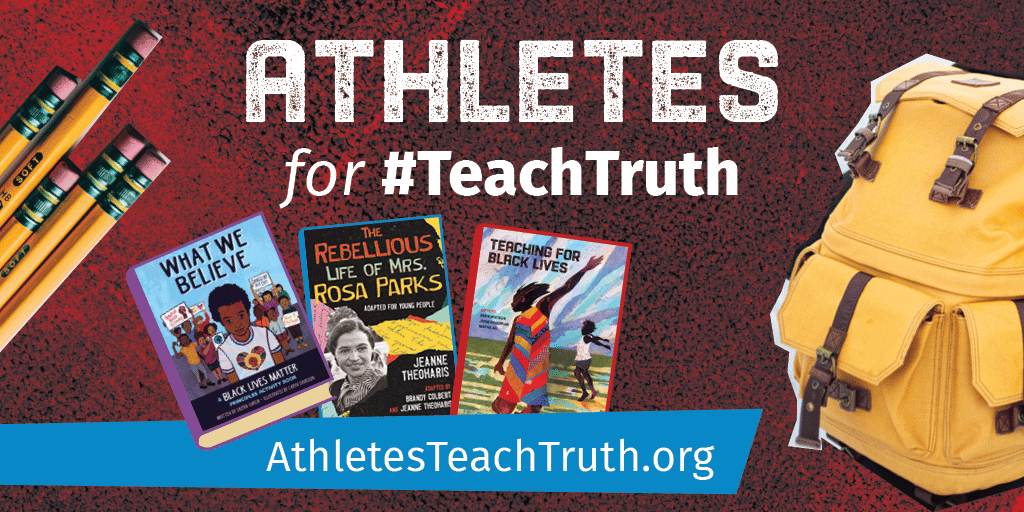 Athletes are collaborating to support teachers who have pledged to teach truthfully about U.S. history in the face of initiatives around the country that would prohibit educators from teaching forthrightly about our country's history of racial inequality and how this has shaped our society today.
The Issue
It is hard to be teacher in today's schools. More than 50 percent of children attending U.S. public schools come from low-income families, which means that teachers are often left to help serve as a safety net for these kids in drastically underfunded school districts. Consequently, some 94 percent of U.S. public school teachers spend their own money on school supplies.
This fall, in addition to the familiar hardships of returning to school with limited budgets, educators are facing two pandemics that create serious challenges in the classroom: COVID 19 and structural racism.
As a result, in addition to paying out of pocket for paper, pencils, and other school supplies, many educators will also have to buy sanitation wipes, masks and protective equipment. Moreover, educators are going back to school in a country where 27 states have passed or proposed legislation to ban teaching about structural racism and oppression. At least five states have passed the bills already, and other school districts and municipalities are following suit.
What You Can Do
Braden Bishop, former Seattle Mariners outfielder currently in the San Francisco Giants organization, has partnered with the Zinn Education Project to launch the Athletes for #TeachTruth campaign.
Athletes will support teachers in the school districts where they play or where they grew up, so they can help children get the supplies they need to have a successful and meaningful school year: from markers to masks, to collections of books that affirm young people's right to learn the full history of the United States. The books include, What We Believe: A Black Lives Matter Principles Activity Book, the young readers' edition of The Rebellious Life of Mrs. Rosa Parks, and Teaching for Black Lives.
If you are an athlete who would like to support this campaign, please contact the Zinn Education Project at AthletesTeachTruth.org. Or make a donation online and note "Athletes for #TeachTruth" in the dedications field.