Harriet Douglass lives with her historian father on an old plantation in Louisiana, which they've transformed into a museum that focuses on the lives of the enslaved. Together, while grieving the recent loss of Harriet's mother, they run tours that tell an honest history, much like the Whitney Plantation.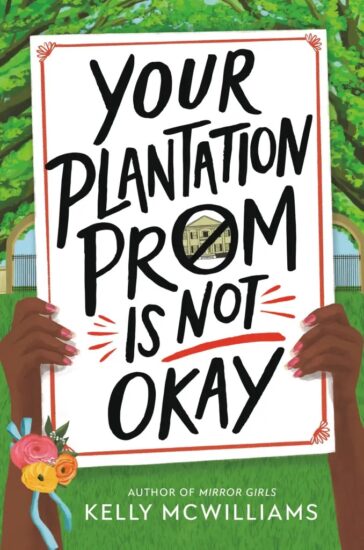 Harriet's world is turned upside down by the arrival of mother and daughter Claudia and Layla Hartwell — who plan to turn the property next door into a wedding venue, and host the offensively antebellum-themed wedding of two Hollywood stars.
Harriet's fully prepared to hate Layla Hartwell, but it seems that Layla might not be so bad after all — unlike many people, this California influencer is actually interested in Harriet's point of view. Harriet's sure she can change the hearts of Layla and her mother, but she underestimates the scale of the challenge . . . and when her school announces that prom will be held on the plantation, Harriet's just about had it with this whole racist timeline! Overwhelmed by grief and anger, it's fair to say she snaps. [Adapted from publisher's description.]
McWilliams stuns with this well-told, honest story that peels apart the legacy of slavery to examine the undeniable connection from past horrors and trauma to present oppression and violence, in obvious and less obvious forms. —BCCB, starred review
A moving story about sisterhood and perseverance in the face of a society that tells Black girls they are worthless. —Booklist
McWilliams pens a touching story about grief, compassion for one's ancestors, and one teen's pursuit of justice in this thoughtfully rendered telling, which interrogates the romanticization of Black pain and the pros and cons of social media activism. —Publishers Weekly
ISBN: 9780316449939 | Little, Brown Books for Your Readers
---
Learn more in Why Plantation Celebrations Keep (Violently) Breaking Our Hearts, a blog post by author Kelly McWilliams.