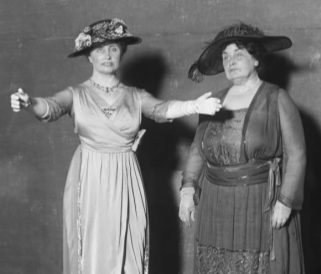 It's time to start telling the truth about Helen Keller. The "Helen Keller story" that is stamped in our collective consciousness freezes her in childhood. We remember her most vividly at age seven when her teacher, Annie Sullivan, connected her to language through a magical moment at the water pump. We learned little of her life beyond her teen years, except that she worked on behalf of the handicapped.
But there is much more to Helen Keller's history than a brilliant deaf and blind woman who surmounted incredible obstacles. Helen Keller worked throughout her long life to achieve social change; she was an integral part of many important social movements in the 20th century. She was a socialist who believed she was able to overcome many of the difficulties in her life because of her class privilege — a privilege not shared by most of her blind or deaf contemporaries. "I owed my success partly to the advantages of my birth and environment," she said. "I have learned that the power to rise is not within the reach of everyone."
More than an icon of American "can-do," Helen Keller was a tireless advocate of the poor and disenfranchised. Her life story could serve as a fascinating example for children, but most picture books about Helen Keller are woefully silent about her life's work.
Related Resources
Reprinted from Rethinking Popular Culture and Media (published by Rethinking Schools), edited by Elizabeth Marshall and Özlem Sensoy.
More related resources below.