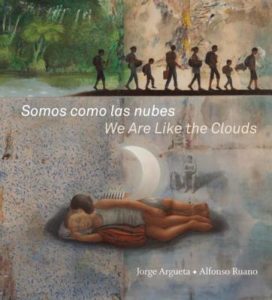 Stunning illustrations and short poems describe the beauty ?of life in El Salvador. Then we learn about the threats from gangs that in recent years have forced many to flee their homeland and take the dangerous journey north.
Jorge Argueta was among the first wave of Salvadoran refugees, who fled the U.S.-funded war in their country during the early 1980s. After the war ended, the United States deported immigrants and their children accused of joining gangs. The gang violence, combined with the economic crisis in the region, has led to the current wave of refugees. Argueta collected testimonials from young people who came in this second wave. Then he wrote poems based on their stories about the hardship of leaving family behind and the perils of the journey. Also highly recommended for young children on migration from Central America to the United States is Pancho Rabbit and the Coyote by Duncan Tonatiuh. [Review by Rethinking Schools.]
Why are young people leaving their country to walk to the United States to seek a new, safe home? Over 100,000 such children have left Central America. This book of poetry helps us to understand why and what it is like to be them. This powerful book by award-winning Salvadoran poet Jorge Argueta describes the terrible process that leads young people to undertake the extreme hardships and risks involved in the journey to what they hope will be a new life of safety and opportunity. A refugee from El Salvador's war in the eighties, Argueta was born to explain the tragic choice confronting young Central Americans today who are saying goodbye to everything they know because they fear for their lives. This book brings home their situation and will help young people who are living in safety to understand those who are not.
Compelling, timely and eloquent, this book is beautifully illustrated by master artist Alfonso Ruano who also illustrated The Composition, considered one of the 100 Greatest Books for Kids by Scholastic's Parent and Child Magazine. [Publisher's description.]
ISBN: 9781554988495 | Groundwood Books