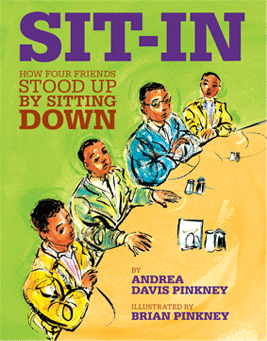 Sit-In: How Four Friends Stood Up by Sitting Down, a Jane Addams Awards Honor Book, tells the story of the momentous Woolworths lunch counter sit-in, when four college students staged a peaceful protest that became one of the defining moments in the struggle for racial equality and the growing Civil Rights Movement.
On Feb. 1, 1960, four African American North Carolina A&T State University students, Ezell Blair Jr. (Jibreel Khazan), David Richmond, Franklin McCain, and Joseph McNeil, began a sit-in protest at a Woolworths "whites-only" lunch counter in Greensboro, N.C., where they'd been refused service. Their protest, while not the first sit-in of the modern Civil Rights Movement, triggered a wave of direct action through sit-ins across the United States. Find more books and films for the classroom on the sit-in movement.
ISBN: 9780316070164 | Little, Brown Books for Young Readers
Author and Illustrator
Andrea Davis Pinkney is the author of many acclaimed picture books and young adult novels, and she received a Coretta Scott King Book Award Author Honor for Let It Shine: Stories of Black Women Freedom Fighters. She is a children's book editor at a major publishing company.
Brian Pinkney has illustrated numerous books for children, including two Caldecott Honor books, and he has written and illustrated several of his own books. Brian has received the Coretta Scott King Book Award for Illustration and three Coretta Scott King Book Award Honor medals. Andrea and Brian are a husband-and-wife team who have collaborated on a number of books for children, including the Caldecott Honor and Coretta Scott King Book Award Illustrator Honor book Duke Ellington: The Piano Prince and His Orchestra.
Book Trailer