On Aug. 19, 1958, high school history teacher Clara Luper and the NAACP Youth Council in Oklahoma began sit-ins to desegregate lunch counters at the Katz Drugstore. As explained on BlackPast.org,
In 1957, Luper escorted her Dunjee High School students to New York City, New York to perform a play she had written, Brother President: The Story of Dr. Martin Luther King, for a national freedom rally.
Inspired by non-violent activism, she and her students returned determined to end segregation in Oklahoma. They staged a sit-in at the Katz Drugstore counter in August 1958.
This sit-in led to numerous other demonstrations at lunch counters, cafeterias, churches, and amusement parks, as well as marches, voter registration drives, and boycotts.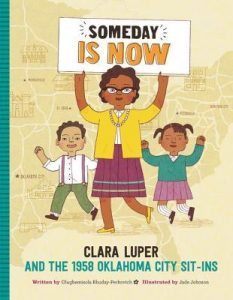 The Oklahoma City Council responded with an ordinance ending racial discrimination shortly before the national 1964 Civil Rights Act. Luper participated, as well, in the civil rights marches in Washington, D.C. and in Selma. Read more.
Luper taught history for 41 years and was arrested 26 times for fighting for civil and human rights.
Read more in Oklahoma City Sit-Ins & Boycotts (1958-1964) at the CRMvet.org website.
Bring Luper's story to students of all ages with the 2018 picture book, Someday Is Now: Clara Luper and the 1958 Oklahoma City Sit-Ins by Olugbemisola Rhuday-Perkovich.