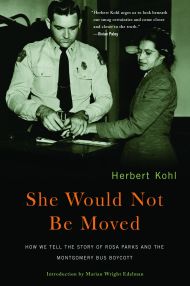 "She Would Not Be Moved gives teachers a richer, more accurate way to tell the story of Rosa Parks — not just emphasizing her personal bravery and political activism but also underscoring the role of the wider African-American community in an organized struggle for freedom." —American School Board Journal
Published in the fall of 2005 shortly before Rosa Parks died, She Would Not Be Moved is a timely and important exploration of how the story of Rosa Parks and the Montgomery bus boycott has been distorted when taught in schools. Hailed by the New York Times Book Review when it was first published as having "the transcendent power that allows us to see . . . alternate ways of viewing our history and understanding what is going on in our classrooms," this expanded version of Kohl's original groundbreaking discussion "deftly catalogs problems with the prevailing presentations of Parks and offers [a] more historically accurate, politically pointed and age-appropriate alternative." (Chicago Tribune).
In addition to Marian Wright Edelman's introduction, She Would Not Be Moved includes an original essay by Cynthia Brown on civil rights activists Septima Clark, Virginia Durr, and Rosa Parks; a teachers' resource guide to educational materials about Rosa Parks and the civil rights movement; and an appendix explaining how to evaluate textbooks for young people about this critical period in U.S. history. [Publisher's description.]
ISBN: 9781595581273 | The New Press
About the Authors
Herbert Kohl is the author of more than forty books, including the bestselling classic 36 Children. A recipient of the National Book Award and the Robert F. Kennedy Book Award, he was founder and first director of the Teachers & Writers Collaborative in New York City and established the PEN West Center in San Francisco, where he lives. Kohl writes a regular column for Rethinking Schools called Good Stuff.
Marian Wright Edelman is founder and president of the Children's Defense Fund. She lives in Washington, D.C.