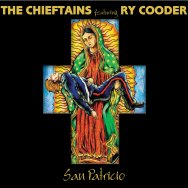 San Patricio tells the nearly forgotten story of the brave San Patricio Battalion — a group of Irish immigrant conscripts who deserted the U.S. Army in 1846 to fight on the Mexican side in the U.S. – Mexico War (1846-1848).
Although the members of the San Patricio Battalion were treated as traitors and deserters by the U.S. government, Chieftains' founder and frontman Paddy Moloney says,
The men of the San Patricio Battalion are remembered by generations of Mexicans to this day as heroes who fought bravely against an unjust and thinly veiled war of aggression.
San Patricio brings their story to life through heart-stirring ballads and effervescent dance songs from both countries, including traditional "sones" that the San Patricios might have heard while in Mexico, and Irish airs and reels that evoke the homeland they left behind.
The Chieftains rekindle their Grammy-winning partnership with Ry Cooder for San Patricio, illuminating musical and historical bonds between Ireland and Mexico. [Publisher's description.]
Distributed by Concord Music Group.