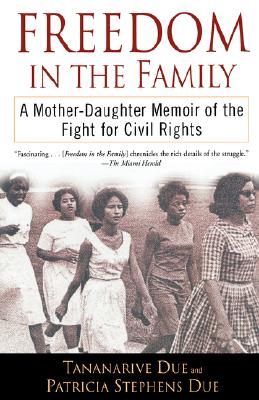 Patricia Stephens Due fought for justice during the height of the Civil Rights era. Her daughter, Tananarive, grew up deeply enmeshed in the values of a family committed to making right whatever they saw as wrong.
Together, in alternating chapters, they have written Freedom in the Family, a paean to the movement — its hardships, its nameless foot soldiers, and its achievements — and an incisive examination of the future of justice in this country.
Their mother-daughter journey spanning two generations of struggles is an unforgettable story. [Publisher's description.]
ISBN: 9780345447340 | One World
Affecting. . . This is a must-read for those who want to know how movement is made and sustained. — Julian Bond, chairman, NAACP
Watch a discussion of the book by the authors on C-Span Book TV in 2003.
On February 20, 1960, Patricia Stephens Due was fined and arrested for sitting at a whites-only lunch counter at Woolworth's in Tallahassee, Florida.
Paul Ortiz, director of the University of Florida Samuel Proctor Oral History Program, stated that Due's refusal to post bail:
gave the civil rights movement a new tactic in the struggle for equality. It was a tactical breakthrough that filled the jails and put pressure on the government.