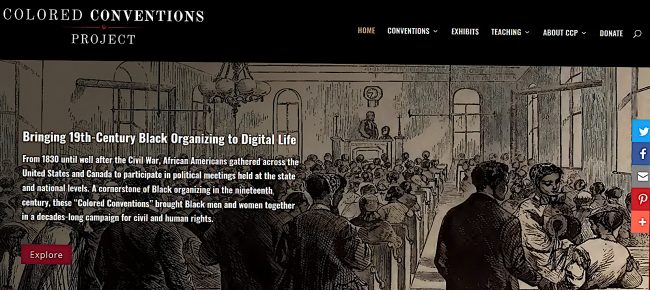 The Colored Conventions Project is a free, digital archive and information resource. It collects and describes the origins, activities, and influence of the series of national meetings of Black leaders to discuss and organize for Black communities living in the United States and Canada.
This project seeks to not only learn about the lives of male delegates, the places where they met and the social networks that they created, but also to account for the crucial work done by Black women in the broader social networks that made these conventions possible.
It endeavors to transform teaching and learning about this historic collective organizing effort — and about the many leaders and places involved in it — bringing them to digital life for a new generation of students and scholars across disciplines and for community researchers interested in the history of activist church, civil rights, educational and entrepreneurial engagement. [Description adapted from the project's website.]
The CCP is an award-winning educational resource. Notably, the National Endowment for the Humanities names the Colored Conventions Project as one of its NEH Essentials, a curated selection of the most significant projects it has supported since its inception.
History Matters: The Colored Conventions Project
In a short film published in 2015, Delaware Public Media's History Matters series takes a look at the University of Delaware's interdisciplinary academic project about the 19th-century Colored Conventions.