By Bill Bigelow
At the urging of teachers, parents, students, and community activists, in the spring of 2016 the Portland, Oregon, school board passed a sweeping climate justice resolution. A key part of the resolution states, "All Portland Public Schools students should develop confidence and passion when it comes to making a positive difference in society, and come to see themselves as activists and leaders for social and environmental justice — especially through seeing the diversity of people around the world who are fighting the root causes of climate change."
The resolution calls on teachers "to investigate the unequal effects of climate change and to consistently apply an equity lens as we shape our response to this crisis."
As with so much else in the world, gender is one of the crucial variables determining how the climate crisis affects us.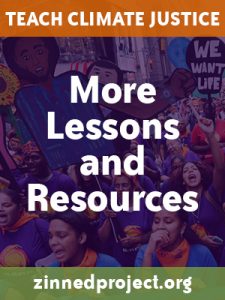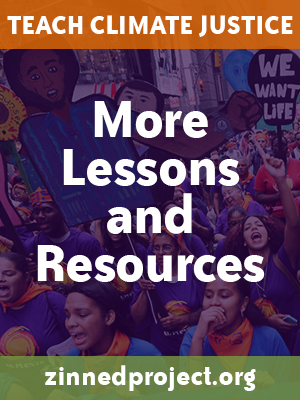 Catherine Pearson's short, classroom-friendly HuffPost article, "Why Climate Change Is a Women's Issue," summarizes how many of the key features of climate change — drought and uncertain rainfall, rising sea levels, more frequent superstorms, spread of new viruses, rising temperatures, and worsening air quality — often hit women harder than men. Women in poor countries spend more of their time finding water and collecting fuel. For a host of reasons, women are much more likely than men to be killed in natural disasters, and much more vulnerable to the rape and abuse that so often follow the trauma of climate-related hurricanes, floods, or wildfires. Most of the world's farmers are women, and the ravages of climate change more quickly upend their lives. Rising temperatures worsen air pollution, which can cause respiratory distress for pregnant women and lead to low infant birth weight. And on and on. Of course, women are not only the victims of climate change, but also some of its most formidable opponents. Around the world, women activists are on the front line of the fight against the oppressive systems hastening our climate crisis.
Download article to continue reading.
---

This article originally appeared in the Spring 2018 issue of Rethinking Schools.
---

---