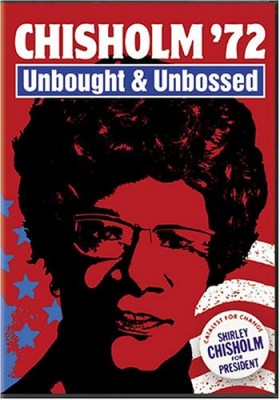 Recalling a watershed event in U.S. politics, this compelling documentary takes an in-depth look at the 1972 presidential campaign of Shirley Chisholm, the first black woman elected to Congress and the first to seek nomination for the highest office in the land.
She stated that 1972 must be the year that "women, blacks, brown, the young, the old, activists for social change, and just people who are tired of reading the election results before the votes are counted — are going to prove that our candidates and our policies and our government are not the exclusive preserve of the financial community, the political establishment, and the opinion polls." Chisholm was outspoken on behalf of civil rights legislation, the Equal Rights Amendment, and a minimum family income; she opposed wiretapping, domestic spying, and the Vietnam War.
Following Chisholm from her own announcement of her candidacy through her historic speech in Miami at the Democratic National Convention, the story is a fight for inclusion. Shunned by the political establishment and the media, this longtime champion of marginalized Americans asked for support from people of color, women, gays, and young people newly empowered to vote at the age of 18. Chisholm's bid for an equal place on the presidential dais generated strong, racist opposition. Yet her challenge to the status quo and her message about exercising the right to vote struck many as progressive and positive.
Period footage and music, interviews with supporters, opponents, observers, and Chisholm's own commentary all illuminate her groundbreaking initiative, as well as political and social currents still very much alive today. [Publisher's description.]
Trailer