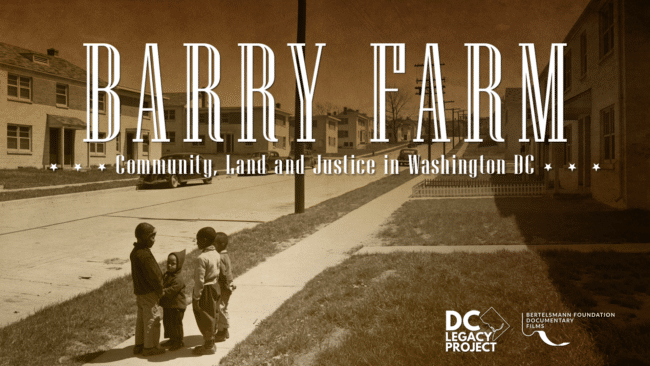 Take a left off of the Anacostia Freeway onto Firth Sterling Ave. in Washington, D.C. — what do you see? You see empty fields. You see shiny new buildings just breaking ground. Construction equipment. Sweeping views of the capital. As one community member states in this film, if you are a developer, you see a gold mine. But these empty fields hold powerful memories. Enslaved people once worked this land. Later, during Reconstruction, the formerly enslaved purchased it, and built one of D.C.'s first thriving Black communities.
Here, the city constructed a sprawling public housing complex in the 1940s, beloved by insiders, if notorious to outsiders. Here, the movement for Welfare Rights took shape. Here, the Junkyard Band honed its chops on homemade instruments before putting a turbocharge into the city's go-go music. Here, residents lived in the Barry Farms Dwellings up until 2019, when the final community members were removed for the redevelopment. This documentary film, a collaboration between The Bertelsmann Foundation and the DC Legacy Project, tells this story of a journey for community, land, and justice. It is a story of Barry Farm, but it is also a story of Washington, D.C. And, in the cycles of place and displacement, it is a story of the United States. [Adapted from publisher's description.]
Watch the trailer on YouTube below.