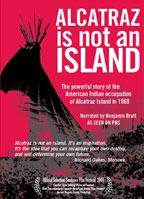 For thousands of Native Americas, the infamous Alcatraz is not an island . . . it is an inspiration. After generations of oppression, assimilation, and near genocide, a small group of Native American students and "Urban Indians" began the occupation of Alcatraz Island in November 1969. They were eventually joined by thousands of Native Americans, retaking "Indian land" for the first time since the 1880s. Alcatraz Is Not an Island is the story of how this historic event altered U.S. Government Indian policy and programs, and how it forever changed the way Native Americans viewed themselves, their culture and their sovereign rights.
The story of the occupation of Alcatraz is as complex and rich as the history of Native Americans. This documentary examines the personal sacrifices, tragedies, social battles and political injustices many Native Americans experienced under the United States Government's policies of assimilation, termination and relocation — all eventually leading to Alcatraz. Out of Alcatraz came the "Red Power" movement of the 1970s, which has been called the lost chapter of the Civil Rights era. Thirty years after the take over of Alcatraz, Alcatraz Is Not an Island provides the first in-depth look at the history, politics, personalities and cultural reawakening behind this historic event, which sparked a new era of Native American political empowerment, and a cultural renaissance.
Among the many people interviewed for the production of Alcatraz Is Not an Island are occupation leaders John Trudell, Dr. LaNada Boyer and Adam Fortunate Eagle, along with several other prominent participants, including Wilma Mankiller, Grace Thorpe, Leonard Garment and Brad Patterson.  Associate Producer and Historical Consultant Dr. Troy Johnson and Native American author/historian Robert Warrior provide much of the historical commentary in the film. Also included in the documentary is an abundance of historical photos by Michelle Vignes and Ilka Hartmann and archival 16 mm footage — much of which has never been seen by the public. [Filmmakers description.]
Directed by James M. Fortier. Written by James M. Fortier, Troy Johnson, Millie Ketcheshawno, Jon Plutte, and Mike Yearling.
Film Excerpt