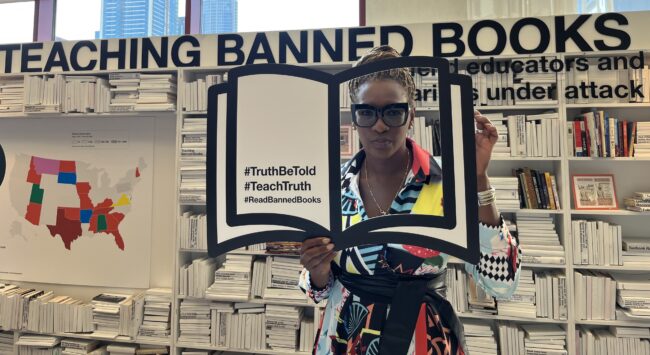 The Zinn Education Project and the African American Policy Forum collaborated on an installation on banned books at the SXSW international festival in Austin from March 10–13, 2023. It was an effective way to raise awareness about the threats to education and issue a call to action with thousands of visitors to this popular, annual event.
The interactive installation, designed by Karyn Holyk and sponsored by Lush, introduced visitors to the book bans, the attacks on teaching about racism, and the threats to LGBTQ+ students.
Much of the data about banned books came from PEN America. The information about anti-history and anti-LGBTQ+ laws came from the Zinn Education Project and AAPF.
To see what visitors experienced, check out this 90-second video.
Stories about the installation were featured in
KVUE
,
My San Antonio
,
Laredo Morning Times
,
El Mundo
,
KXAN
,
Fox 26 Factor Uncensored
, and more.
Visitors came from all over the United States and around world. Among the people we talked with at the installation were classroom teachers, librarians, artists, authors, students, Congressman Maxwell Frost, and journalist Michele Norris.
There was a constant buzz as visitors shared memories of what they learned from books that are now banned in some school districts. Here are some stories about what the installation meant to them and their own experiences in education.
Principal Blanca Cruz and other staff from Roybal Learning Center in Los Angeles stopped by the installation and shared stories about the fight for ethnic studies in California. They returned later in the day to take a photo with their union t-shirts.
Lush also sponsored a panel, Teaching Truth in the Era of Book Bans, on Friday, March 10 with Sumi Cho of the African American Policy Forum, Cierra Kaler-Jones of Rethinking Schools, Carleen Pickard of Lush Cosmetics, and Nelva Williamson of the Young Women's College Preparatory Academy.

More Photos