Every week we love hearing how people found us and why they've signed up to access people's history lessons from the Zinn Education Project. Below are a few reasons people shared when they registered at our site recently.
I am registering because I live in Florida and our governor is trying to erase true history.
— Orlando, Florida
I am looking for m
ore curriculum ideas that are culturally relevant and sustaining. — Long Beach, California
I like the intentional exploration of perspectives that challenge nationalistic myths and whitewashing. I really like the use of plenty of primary documents to do this. — Albuquerque, New Mexico
I am registering because these resources look incredibly valuable and consistent with my values as an educator.
— Urbana, Illinois
I teach African American history at my high school in Florida and I am striving to be an antiracist educator. — Jacksonville, Florida
ZEP provides accurate information that is very meaningful for understanding our society. — Salt Lake City, Utah
I am registering so I can have more resources to teach U.S. history without the district adopted textbook.
— APO, New York
I want to teach my daughter the importance of African American influence across the South that they will not teach her in school. — Vicksburg, Mississippi
I signed up because we deserve to learn our history!
— Minneapolis, Minnesota
These are comments from a few of the hundreds of teachers who signed up recently for people's history lessons from Juneau, Alaska; Little Rock, Arkansas; Daly City, California; Aurora, Colorado; Miami, Florida; Marietta, Georgia; Derby, Kansas; Towson, Maryland; Brooklyn, New York; Elon, North Carolina; Las Cruces, New Mexico; Tulsa, Oklahoma; Chesapeake, Virginia, and many more cities.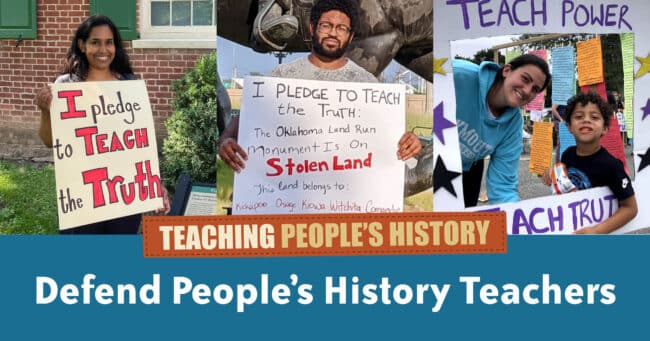 ---