Every week we love hearing how people found us and why they've signed up to access people's history lessons from the Zinn Education Project. Below are a few reasons people shared when they registered at our site recently.
I love the Zinn Ed Project. I was informed about it via my teacher education program.    — Mukwonago, Wisconsin
I am developing a climate justice curriculum for middle and high school students.        — Houston, Texas
I live in the state of Florida and there has been an attack by the government on how our history should be presented. I want to show the true history of our people.              — Jacksonville, Florida
I follow the Zinn Education Project on Facebook, and share their posts often.                 — Birmingham, Alabama
It was mentioned at today's AP training at Howard University. I would love to learn as much as I can for myself, but more importantly, for my students. — Washington, D.C.
Rethinking Schools fangirl! — Tacoma, Washington
I need ideas for my Black history class. — Palm Bay, Florida
I love the Zinn Education Project and want to continue using it in my courses. — Grand Rapids, Michigan
I have used Rethinking Schools resources in the past and have liked the level of student engagement. I am looking to expand offerings to teachers to choose from. — Colts Neck, New Jersey
To add to my students' curriculum. I live in Texas and we need help. — Boerne, Texas
These are comments from a few of the hundreds of teachers who signed up recently for people's history lessons from Phoenix, Arizona; Berkeley, California; Broomfield, Colorado; Miami and Panama City Beach, Florida; Lawrenceville, Georgia; Warsaw, Indiana; Waltham, Massachusetts; Kalamazoo, Michigan; Black Mountain, North Carolina; Buffalo, New York; Greenville, South Carolina; San Antonio, Texas; Norfolk, Virginia, and many more cities.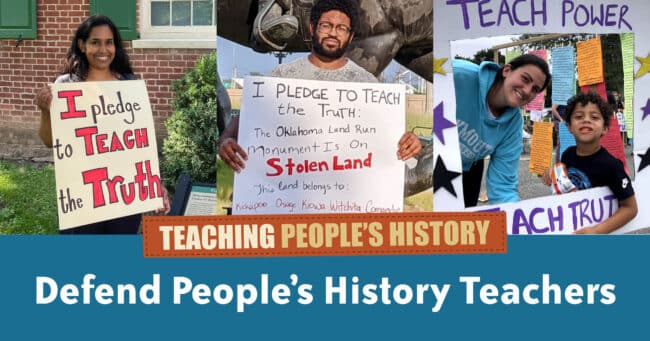 ---