On April 2, the The Daily Show aired a segment on the ban on the Mexican American Studies (MAS) program in Tucson. The Daily Show correspondent Al Madrigal interviewed Tucson School Board member Michael Hicks and Mexican American Studies teacher Curtis Acosta.
Jon Stewart introduced the show by saying: "Your children's education… Nothing is more important! You want them to learn enough to do well in the world, but not so much that they can win arguments with you.
"But, what are they really learning in school? Al Madrigal followed this eye-opening story."
The Los Angeles Times reported that the "segment struck a nerve."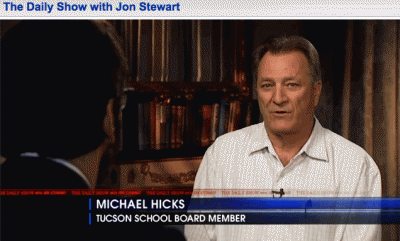 Debbie Reese of American Indians in Children's Literature offers a full transcript.
This show aired the same night that the Zinn Education Project announced the selection of Mexican American Studies Program founder Sean Arce for the Myles Horton Award for Teaching People's History.
Author and journalist Jeff Biggers wrote articles for the Huffington Post, AlterNet, and Common Dreams about the award and The Daily Show.
Biggers opened with: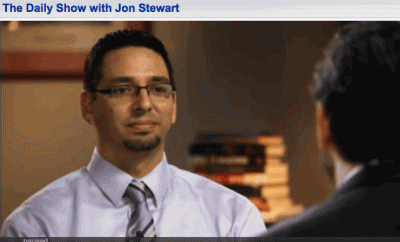 While The Daily Show brilliantly reminded millions of viewers last night of the disgraceful racist elements behind the attack on Tucson's acclaimed and now outlawed Mexican American Studies program, educators across the nation recalled a teaching moment.
Over a half century ago, facing a similar segregationist campaign to shut down the Highlander Folk School in Tennessee, famous for its pioneering desegregation and civil rights efforts, folk school co-founder Myles Horton informed his rabid foes: "A school is an idea, and you can't padlock an idea."
Invoking Horton's towering legacy today, the Zinn Education Project bestowed its national Myles Horton Education Award on embattled Mexican American Studies director Sean Arce for his leadership role in "one of the most significant and successful public school initiatives on the teaching of history in the United States."