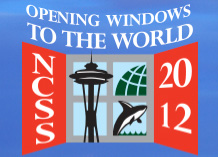 The Zinn Education Project had a major presence at the National Council for the Social Studies Conference in Seattle from Nov. 16-18, 2012. Educators from across the country met and talked about teaching people's history. We featured books by Rethinking Schools and Teaching for Change, people's history resources, and a raffle.
In addition, the Zinn Education Project sponsored three special sessions.
Zinn Education Project presented:

Film Screening and Award Presentation with Sean Arce

Friday, Nov. 16 | 5:00-7:00 p.m.

Precious Knowledge: The Ban on Teaching History in Tucson Schools
The highly successful Mexican American Studies (MAS) program was banned last year. Attendees saw the acclaimed PBS film Precious Knowledge about this program, and heard from special guest MAS co-founder Sean Arce who was awarded the Myles Horton Award for Teaching People's History.

Workshop with Bill Bigelow

Sunday, Nov. 18 | 8-10 a.m.

Rethinking the Line Between Us: Teaching the War with Mexico
Participatory workshop on the U.S. war with Mexico that resulted in Mexico losing almost half its territory. It was also the birth of the first U.S. anti-war movement. Bill Bigelow taught high school social studies in Portland, Ore. for almost 30 years. He is the curriculum editor of Rethinking Schools and the co-director of the Zinn Education Project. Bigelow is author or co-editor of numerous books, including A People's History for the Classroom and The Line Between Us: Teaching About the Border and Mexican Immigration.

Zinn Education Project was a sponsor of:

Featured NCSS Presenter James Loewen

Friday, Nov. 16 | 1:15-2:15 p.m.

James W. Loewen is an acclaimed historian and best-selling author of Lies My Teacher Told Me and many others. He engages audiences on a range of topics encompassing U.S. history, multicultural education, civil rights, race relations, voting rights, law and social science. Presented by NCSS.