When Marian Wright Edelman called to ask if we could help with the Youth Advocate Leadership Training at the 2012 Children's Defense Fund (CDF) Community and Youth Empowerment Conference, how could we say no?
This was a wonderful opportunity to share people's history lessons from the Zinn Education Project with more than 150 students from across the country who came to the CDF national conference in Cincinnati.
We selected key lessons from the Zinn Education Project website that linked history with knowledge and skills needed for contemporary youth organizing. We also recommended high school teacher Julian Hipkins III to train the team leaders on implementation.
Julian shared with us some highlights from the experience.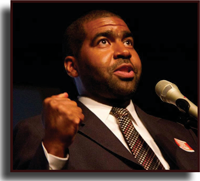 By Julian Hipkins III
Students started their three-day seminar with a community-building lesson titled "Big Shoes to Fill." Students were asked "If your shoes could talk, what story would they tell about how you have walked for justice?" or "In whose footsteps are you following, and why?" They wrote responses on paper footprints and shared these in small groups. This activity allowed students to hear experiences of peers from a diverse array of places.
We then moved from their own activist stories to a lesson that introduces participants to dozens of activists for social justice who are missing from or shortchanged in the textbooks. The lesson, Unsung Heroes: Encouraging Students to Appreciate Those Who Fought for Social Justice, is by Rethinking Schools editor Bill Bigelow based on an essay by Howard Zinn. Each student takes on the identity of an "Unsung Hero" in history. Students had to read their roles, make a name tag for their new identity, and then interview others with a "Racial and Gender Justice Hunt" sheet. The mingling activity allowed students to learn about many activists in U.S. history. While debriefing, the participants shared what they had learned from the room full of historic activists and noted that they had not learned about most of the people in school.
We then examined a specific event in recent history. I adapted "The People vs. Columbus, et al." from Rethinking Schools (on the Zinn Education Project website) to create the "Trayvon Martin Murder Trial Lesson." I asked participants to determine "Who is to blame for the murder of Trayvon Martin?" The "defendants" were George Zimmerman, the criminal justice system, the education system, parents, rich people, and finally Martin himself. Some students played the role of the jury in order to assign percentage guilt to those participating in the trial. Students read information about their role and then attempted to make an argument with evidence against one of the other groups for Martin's murder. The youth were deeply engaged in this lesson as they considered societal factors in this terrible crime and how to prevent it in the future.
The role play "'If There Is No Struggle. . .': Teaching a People's History of the Abolition Movement" by Bill Bigelow gave students the opportunity to look at the abolition movement from different perspectives. In their role as antislavery activists, students had to think about how they would have approached the abolition of slavery during the 19th century. Once students thought about their viewpoint, they had to consider dilemmas that confronted the American Anti-Slavery Society and vote as a larger group. This lesson shows students that one can be a part of a large organization that has individuals with different opinions but all with the same overall goal. And it shows that people can join together and successfully challenge great social evils and powerful interests.
This lesson led perfectly into the culminating activity, which was a visit to the National Underground Railroad Freedom Center in Cincinnati. Many of the individuals that students discussed in the abolitionist lesson were mentioned in various exhibits throughout the center. As students moved through the center guided by docents, the realization of the risks involved with escaping the horrors of slavery were all around us. In addition, the economics of slavery were explained in numerous sections of the center. Films narrated by Oprah Winfrey dealing with the story of a woman seeking her freedom gave students a character to empathize with as she made her way across the Ohio River, which lies directly behind the center.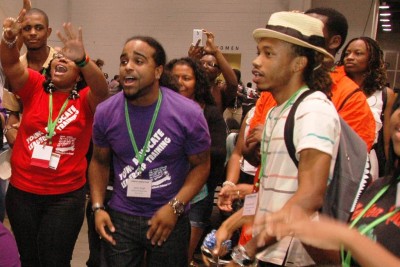 In addition to the lessons, many of the youth attended conference plenaries including "Ending the Cradle to Prison Pipeline and Mass Incarceration—the New American Jim Crow," "National and Racial Healing Town Hall," and the closing session with Marian Wright Edelman.
The trip to Cincinnati was a great opportunity to share lessons from the Zinn Education Project with students from across the country. I was able to learn different strategies for my own class while learning about the perspectives of young people outside of Washington, D.C.
Julian Hipkins III is an award-winning high school U.S. history teacher in Washington, D.C. Here are more articles about Hipkins' work with the Zinn Education Project.
Photo of Julian Hipkins by Jack Gordon.