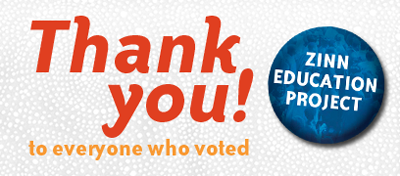 Our thanks to everyone who voted for the Zinn Education Project on the CREDO donations ballot in December. The results have been tallied. The Zinn Education Project received $27,433.
This donation helps us offer free people's history lessons to teachers and students — lessons on Reconstruction, policing, climate change, voter suppression, reparations, and more. The CREDO donation also allows us to defend the right to teach honestly in the face of anti-history education laws.
Missed the opportunity to vote in December? We still need your support. You can make a direct donation.
You can also sign up for CREDO. They offer $250 off any smartphone and a separate $50 donation will go to the Zinn Education Project when anyone in our network joins CREDO Mobile. To take advantage of the offer, use the promotion code ZinnPG50 at credomobile.com or by phone 1-866-996-4341.