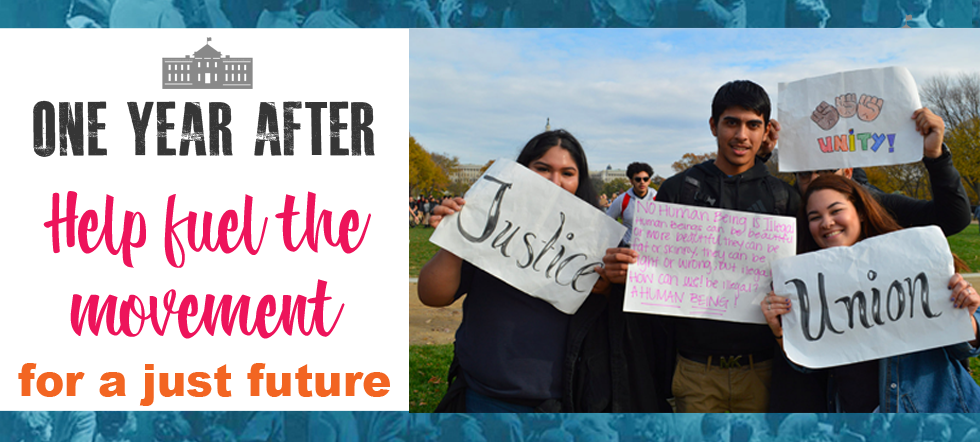 What do we want the world to look like when today's high school students graduate? What do students need to learn to become engaged citizens changing their communities and the world for the better?
This past year has revealed starkly different possible futures.
Fueled by Trump's law-and-order rhetoric, anti-Muslim travel ban, and anti-immigrant policies, we have seen a staggering increase in racist violence in our schools and communities. Meanwhile, from wildfires to hurricanes, it is more apparent than ever that climate destabilization is ravaging our world — despite Trump calling it a hoax. From Charlottesville to Puerto Rico, we have seen signs of an even more violent, racist, and dystopian future.
But this is only part of the story.
His first day in office, the 45th president was met with the Women's March, the largest protest in U.S. history. The year since has been one of continuous resistance — a year of marches and protests, of walkouts and kneel-ins. While not yet strong enough to change the status quo, these growing movements point to a very different future.
Teachers and students play a crucial role in movements for social change. Classrooms have been — and remain — laboratories for justice. Students need to learn a history that doesn't show them only what's wrong, but also reveals that something else is possible.
Since the election, 10,000 teachers have signed up to access people's history lessons from the Zinn Education Project website. In March, 800 of those teachers and school librarians fought back against an attempt to ban books by Howard Zinn in Arkansas schools. One language arts teacher from Maumelle, Arkansas, wrote,
Students are exhausted by lies they see in media and have become cynical as a coping mechanism. We are in a post-trust era and youth are most strongly affected. I must help them respect, evaluate, and integrate outside sources and information. Zinn represents voices they need to hear.
The Zinn Education Project offers teachers and students lessons that can fuel the movement for a just future. Teachers across the country are hungry for new resources. We need your donation to reach more classrooms.
Help us equip a new generation.