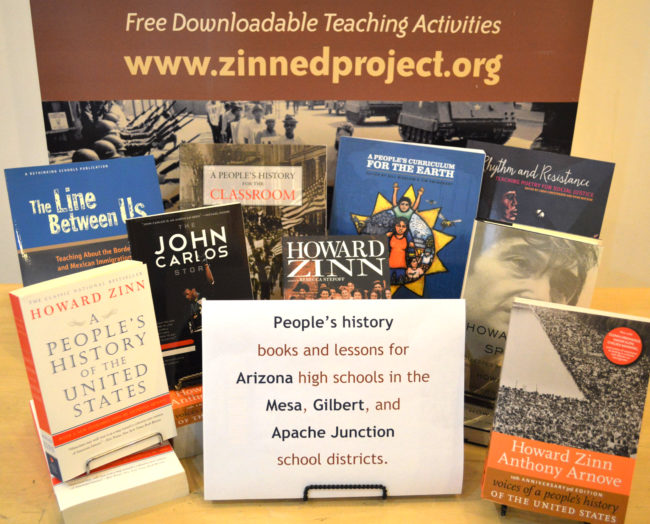 Howard Johnson was angry when he read about racist taunts at a basketball game at Red Mountain High School in Mesa, Arizona, in early February. As a retired teacher from the Mesa School District, most recently at Red Mountain, this story hit close to home. But he was unsure what he could do to help students learn to treat each other with respect until he read about the Howard Zinn book drive in Arkansas. That gave him the idea to deliver people's history books to high schools in Mesa and two nearby school districts.
Mr. Johnson contacted the Zinn Education Project to ask if we could help. We happily agreed. He donated the funds to send packets of people's history books and lessons to principals at the 13 high schools in the Mesa, Gilbert, and Apache Junction school districts in Arizona. They include copies of:
A Peoples History of the United States
A People's History for the Classroom
A Young People's History of the United States
Voices of a People's History of the United States
Howard Zinn Speaks: Collected Speeches 1963-2009
A People's Curriculum for the Earth
The Line Between Us: Teaching About the Border and Mexican Immigration
Rhythm and Resistance: Teaching Poetry for Social Justice 
The John Carlos Story: The Sports Moment that Changed the World
These resources are relevant for social studies, language arts, and science classrooms. They serve as an introduction to many more materials at the Zinn Education Project, a website already used by more than 70,000 educators from across the United States.
It is Mr. Johnson's hope, and ours, that learning people's history can help students recognize the ways in which racism, classism, sexism, and ethnocentrism have served to divide us throughout U.S. history and also the countless ways that people of all races have courageously and creatively committed to overcome those divisions.
The event in Mesa was not unique to Arizona. In early May, Baltimore Orioles player Adam Jones was taunted with racist epithets at a baseball game in Boston, MA. Orioles COO John Angelos issued a powerful statement in response. It concluded,
True emancipation, civil rights, equal rights, and the dream of an integrated, unbiased, and undivided society is still the great unattained American dream, and we must stand together and fight so very hard every day against those who would tear that dream from our reach today and from our children's grasp tomorrow.
Mr. Johnson is taking Angelo's advice to heart as he stands up to racism, using people's history.