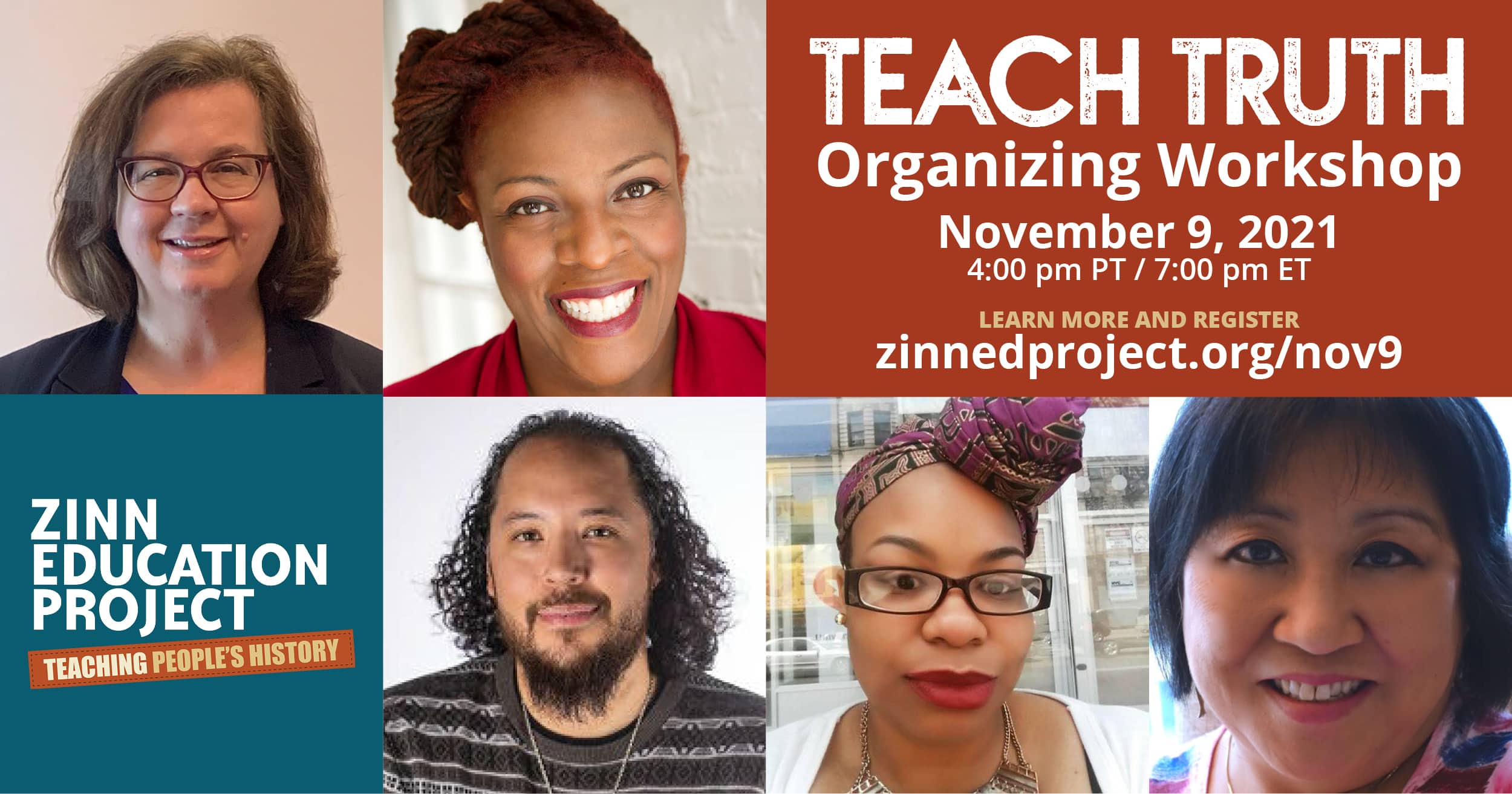 More than 60 educators joined us on November 9 for a 75 minute workshop for teachers and other school staff on organizing and rights related to the right-wing attacks on teaching history. The participants came from Rhode Island, Oregon, Texas, Pennsylvania, Georgia, Virginia, California, New York, Iowa, Ohio, Tennessee, D.C., Maryland, and more states.
This was an opportunity to learn from presenters and meet other organizers from across the country.
The convening opened with words of inspiration from Jesse Hagopian, followed by small groups for participants to share stories about #TeachTruth issues in their own communities. They came out of those sessions noting that they learned or discussed:
No corner of the country is untouched! That's what I learned and took away from folks in RI, OH, VA, GA, and OR!
Heard about the fear of teaching books that teachers have been reading with their students for years
I live in Texas, was happy to connect with folks in Knoxville.
I also am in Texas and was happy to meet other profs and teachers in the U.S. South!
Great conversations especially about the impacts in higher education.
Participants then chose one of the following workshops.  
Know Your Rights. What to know about your rights and protections when teaching about racism, sexism, and other forms of oppression. This includes state laws, district policies, and pending laws. Presented by Alice O'Brien, General Counsel, National Education Association. Based on the NEA Know Your Rights guide. Here is the Know Your Rights Workshop slideshow shared in the workshop.
Learn to Influence Your Local School Board. School boards have been at the center of U.S. politics this year, as right-wing activists have flooded meetings and conflicts have exploded about anti-racist education, COVID-19 vaccination, and masking. How can anti-racist, equity-centered teachers, parents, youth, and community members make ourselves heard at our school boards and influence education policy? This workshop provides an introduction to several ways to impact your school board, including testifying at meetings, petitioning the school board, advocating for resolutions, and running for a seat yourself. Presented by Matt Gonzales, director, Integration and Innovation Initiative (i3) from NYU Metro Center and Natasha Capers from the NYC Coalition for Educational Justice. Here is the School Board Activism slide deck shared in the workshop.
Outreach and Allies. As you plan more Teach Truth actions, here are tips on how to increase the impact by engaging people and groups to support teachers in your community. Learn strategies to gain support from allies such as unions, CBOs, clergy, student organizations, youth groups, higher education groups, progressive elected officials. Presented by Zinn Education Project organizers Tamara Anderson and Debbie Wei. Here is the one-stop guide for organizers shared in the workshop.
From the workshops, they learned:
That institutions may be over-responding to these laws to cover their butts (like the scripted curriculum in Knoxville)
That states are working hard to silence the truth
There are a lot of others standing up for what is right
When the laws affect my teaching and when they don't. . .
New ways to start organizing.
In response to a question about what they will do with what they learned, participants noted:
Go back to my colleagues and tell them how we can stand up to this

. . . start to build our coalition and get some organizers together. 

Get a group together, make a plan for working together to reach our school board.

Write a letter to the editor (with colleagues and students) 

Begin building my confidence to step into leadership roles.