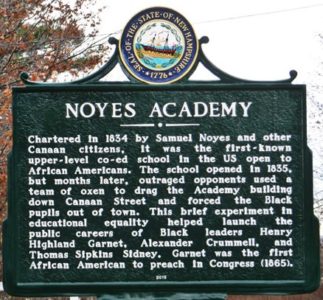 On August 10, 1835, nearly 500 white men destroyed the Noyes Academy in Canaan, New Hampshire, using 100 oxen to pull the schoolhouse off its foundation and drag it a mile down the road.
Noyes Academy was a new integrated school (the second in the country) founded by abolitionists with 28 white and 14 Black students.
The African American students, who came from all over the Northeast, traveled long distances in the face of adversity to get to the school. Students included future leaders of note such as Henry Highland Garnet and Alexander Crummell.
After destroying the school, the mob fired cannons into the homes where the African American students were boarding and threatened the students. Shots were exchanged which created a distraction for the Black students to escape out of town.
Despite attempts to repair and reopen the school, the structure was burnt to the ground three years later.
This story highlights the central role that the fight for "freedom for literacy and literacy for freedom" has played in U.S. history, as Theresa Perry describes in Young, Gifted, and Black: Promoting High Achievement among African-American Students.
Learn more about Noyes Academy and related history in an interview with Professor Craig Wilder on Democracy Now!