On August 9, 1970, nine Black activists were arrested in London and charged with inciting a riot when they led over 150 protestors in a march against police harassment.
B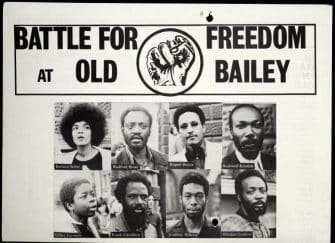 lackPast.org explains:
The Mangrove Nine Trial was Britain's most influential Black Power trial. In Britain, descendants from the Caribbean, Africa, or South Asia, who were mainly immigrants from former British colonies, were considered to be "black."  The London police and the British Home Office responsible for immigration, security, and law and order orchestrated the arrest and trial of nine Black leaders in 1970 to discredit London's growing Black Power movement.
The Mangrove trial focused on the police harassment of the Mangrove restaurant in west London's Notting Hill area, which was owned by Frank Crichlow, a Trinidad-born community activist.  The restaurant was the heart of the Caribbean community and was also popular with white and Black celebrities. Because Crichlow was a Black Power activist, police raided his restaurant 12 times between January 1969 and July 1970, calling the Mangrove a den of drugs without finding any drugs.
In response to this intense police harassment, Crichlow filed a complaint to the Race Relations Board accusing the police of racial discrimination. Furthermore, his employee Darcus Howe, a Trinidad-born Black Power activist, encouraged Crichlow to work with the British Black Panthers (BBP) in London to organize a demonstration against police harassment of the Mangrove.
Continue reading at BlackPast.org
Read more below at the UK National Archives.
Rights, resistance and racism: the story of the Mangrove Nine