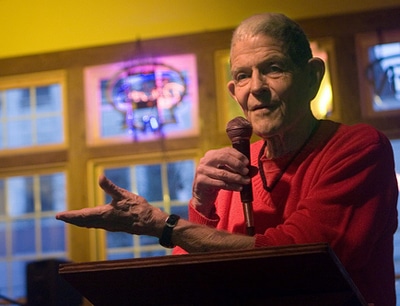 People's historian Staughton Lynd died on Nov. 17 after an extraordinary life as a conscientious objector, peace and civil rights activist, tax resister, professor, author, and lawyer.
Lynd inspired us with his role as a people's historian, always working in solidarity with struggles for justice today.
Lynd served as director of the Freedom Schools in the 1964 Mississippi Summer Project. He worked with prisoners and challenged the prison-industrial complex.
While teaching at Spelman College, his family and Howard Zinn's developed a lifelong friendship. Zinn said of Lynd, "He is an exemplar of strength and gentleness in the quest for a better world."
Among Lynd's many books is Doing History from the Bottom Up, in which he described three key perspectives that are guides for any teacher or student of history.
1. History from below is not, or should not be, mere description of hitherto invisible poor and oppressed people: it should challenge mainstream versions of the past.
2. The United States was founded on crimes against humanity directed at Native Americans and enslaved African Americans.
3. Participants in making history should be regarded not only as sources of facts but as colleagues in interpreting what happened.
Historian Stephen West tweeted about an earlier book of Lynd's on Reconstruction.
One of Lynd's earliest academic publications was a reader on Reconstruction. Published in 1967, it gave pride of place to Du Bois.

Lynd's introduction highlighted the revolutionary character of Reconstruction and remains a good read on the historiography to that time. pic.twitter.com/YrExS294Ru

— Stephen West (@Stephen_A_West) November 17, 2022
In that book, Lynd critiqued liberal analysis and uplifted the arguments of people like W. E. B. Du Bois and Thaddeus Stevens:
In my opinion a third point of view is crystalizing. It seeks to escape the debate as to whether Northern policy was too soft or too hard by contending that it was hard in the wrong way, or more precisely, in the wrong area of social life. This third view holds that the fundamental error in Reconstruction policy was that it did not give the freedman land of [their] own. Whether by confiscation of the property of leading rebels, by a vigorous Southern homestead policy, or by some combination of the two, Congress should have given the ex-slaves the economic independence to resist political intimidation.
After Freedom Summer, Lynd got involved in anti-Vietnam War organizing.
Despite his talents as a scholar, academia closed their doors to him after he traveled on a fact-finding mission to Hanoi. In a 2013 essay about Lynd, Andy Piascik explains what happened next:
Lynd never looked back. He became an accomplished scholar outside the academy and one of the most perceptive and prolific chroniclers of "history from below," with a special interest in working class organizing. From a series of interviews, he and [his wife] Alice produced the award-winning book Rank and File, which begat the Academy Award-nominated documentary film Union Maids.
Lynd moved to Ohio in 1976, became an attorney and, when the mills in Youngstown began to close, assisted steelworkers in an unsuccessful attempt to take them over. In a book he wrote about the effort, Lynd explored the biggest little secret of all, one that people everywhere would do well to heed: We who do the work can build a better world, and we can best do it without the parasitic Super Rich who contribute nothing and weigh us down like a monstrous ball and chain.
In a memorial tribute to Howard Zinn at the Organization of American Historians, Lynd said, "When a comrade dies in the struggle for nonviolent revolution, we try to pick up his dreams." May we all do that now: pick up Lynd's dreams and his principled, grassroots approach to making those dreams a reality.
Books
Read Lynd's edited collection on Reconstruction below.
Videos
Staughton Lynd on Democracy Now!, January 4, 2011, discussing prisoner hunger strike at an Ohio supermax prison.
The film 
Union Maids
— directed by Julia Reichert, Jim Klein, and Miles Mogulescu — an oral history of three women labor activists featured in the book 
Rank and File
.
More Tributes and Obituaries
The Return of Staughton Lynd by David Waldstreicher in History News Network
Staughton Lynd Remembered by Carl Mirra via Historians for Peace and Democracy (H-PAD)
A Tribute to Staughton Lynd by Eric Kerl via Haymarket Press
An Historian in History: Staughton Lynd (1929-2022) by Forrest Hylton in Counter Punch
Staughton Lynd's Radicalism From Below by Marcus Rediker in The Nation