In recognition of LGBTQ History month, we highlight one example of how a teacher and her students are promoting a deeper understanding of LGBTQ narratives and history. The story is featured in "Rethinking the Day of Silence" by Adriana Murphy in the Summer 2013 issue of Rethinking Schools.
Murphy's middle school students, after participating in the Day of Silence, quickly mobilized for action after learning "how hard it is to be unable to fully express oneself." One student commented: "We need to do something besides be silent all day. The Day of Silence should really be a Day of Action where we have different workshops and learn how to be allies." Thus, the Day of Silence became reinvented to be the Day of Action, offering workshops including "Being an Ally" and "Coming Out: Teen Issues" by guest speakers.
The newly established Day of Action was a success: students were able to participate, ask questions, and engage with community members.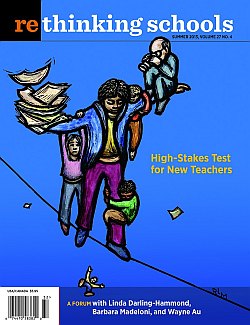 The Day of Action is merely one way of rethinking LGBTQ representation and inclusion within schools. Whether they identify as LGBTQ or practice allyship, students across the country have taken concrete steps to create safety and inclusion for LGBTQ-identified folks in their schools and communities.
For more ideas, visit the LGBTQ teaching materials section of the Zinn Education Project website.
You can read the full article, "Rethinking the Day of Silence," at Rethinking Schools. If you enjoyed this article, please click here to subscribe to Rethinking Schools.
—-By Shelly Wen, Zinn Education Project intern, Summer 2013