Portland-area educators are gathering at multiple locations on Saturday, June 12 to bring attention to the fact that lawmakers in at least 15 states across the country are working to pass legislation that would require teachers to lie to students about the role of racism, sexism, and other forms of oppression in U.S. history and contemporary life.
Help amplify teachers' voices against these bills: Take the pledge to teach the truth and attend a Day of Action event on June 12 (see four options below) or plan your own.
---
Friendship Circle at the Waterfront
10:00 am – 11:30 am PT

This event, held from 10:00 – 11:30 am at the Waterfront (south of the steel bridge), is planned by Oregon Educators United. Participants will gather at Friendship Circle.
---
Vanport Mosaic at Pittock Mansion
11:00 am PT

Educators will gather to take a tour of the exhibit "Vanport: Surge of Social Change," a Vanport Mosaic exhibit about the legacy of the multiracial and multicultural community — built to house workers during World War II — of over 40,000 residents that was destroyed in 1948 by a devastating flood. Share on Facebook.
---
Colonel Summers Park
1:00 pm PT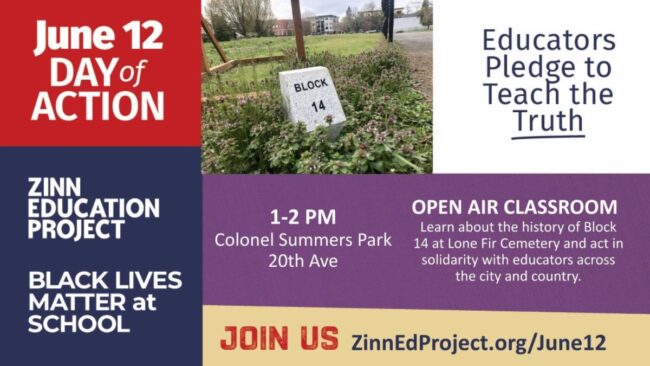 At this action site in Colonel Summers Park, participants will learn the story of Block 14, receive resources on how to learn more about its powerful history, and will be invited to take a short walk to Lone Fir Cemetery to view the Block 14 marker — the future site of a memorial garden to commemorate the site.
---
Oregon Holocaust Memorial in Washington Park
2:00 pm PT

The Oregon Jewish Museum and Center for Holocaust Education (OJMCHE) is supporting and joining a national movement of educators who are coming together at historic locations around the country to speak up against legislative efforts to ban or prevent teachers from teaching the truth about the role of racism, sexism, heterosexism, and oppression throughout U.S. history.
Not acknowledging the country's actual history, including racism and other oppression, is deception, not education.
After brief remarks, educators are invited to stay for a tour of the Oregon Holocaust Memorial and learn about available resources from OJMCHE to teach about the history of the Holocaust.
---
These events are part of a national call to action on June 12 by the Zinn Education Project (coordinated by Rethinking Schools and Teaching for Change) and Black Lives Matter at School.