New Hampshire educators are gathering at three locations — in Portsmouth, Concord, and Dover — on Saturday, June 12 to bring attention to the fact that lawmakers in at least 15 states (including New Hampshire) are attempting to pass legislation that would require teachers to lie to students about the role of racism, sexism, ableism, heterosexism, and oppression throughout U.S. history.
Help amplify teachers' voices against these bills: Take the pledge to teach the truth and attend a Day of Action event (NH event details below) on June 12, or plan your own event.
---
Concord, New Hampshire
4:00 – 5:30 pm ET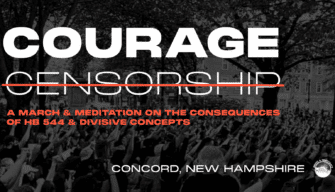 Courage Over Censorship: A March & Meditation on the Consequences of HB 544 at the NH State House: Participants will gather at 4:00 pm on the corner of N. Main St. and Park St. The organizers ask that you please wear a mask both for public safety and for the visuals of our silent march around the state Capitol. We'll be passing out red or white duct tape X's for participants to put on their masks as we march to the Capitol steps.
Participants are encouraged to bring a book that changed their perspective on systemic racism/inequity that might be considered "divisive" under the new law and treat the event as a giant book swap. Attendees will be welcomed to place their book on the capitol steps and at the end of the event, anyone who brings a book can pick a new one!
Learn more and RSVP. Directions to the meeting point.

---
Dover, New Hampshire
1:00 pm – 2:00 pm ET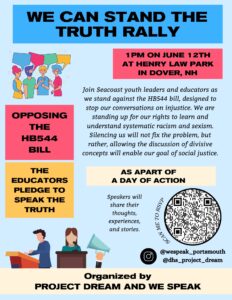 Join Seacoast youth leaders and educators at Henry Law Park in Dover, New Hampshire, as they speak out against the HB 544, designed to stop conversations on injustice. They are rallying on June 12 for the rights to learn and understand systemic oppression.
The organizers remind us that stopping classroom conversations will not fix the problem, but rather, allowing the discussion of divisive concepts will enable our goal of social justice. This rally is organized by Project DREAM and We Speak.
RSVP via Facebook. Directions to Henry Law Park.
---
Portsmouth, New Hampshire
12:00 pm – 1:00 pm ET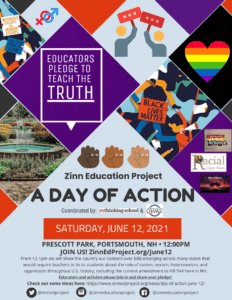 Starting at noon in Prescott Park, New Hampshire educators and allies will raise awareness of the bills emerging across many states that would require teachers to lie to students about racism, sexism, ableism, heterosexism, and oppression throughout U.S. history, including the current amendment to HB 544 here in New Hampshire.
Download flyer to learn more. Directions to Prescott Park.
---
On Your Own
No event in your area? You can still participate. Find an historic site (history is everywhere!). Take a photo with one of our signs or make your own. (We'll send you signs when you sign up.) Tweet to #TeachTruth !