This offer has ended

, but the Zinn Education Project continues to send DVDs, books, and copies of the 1619 Project to teachers who share their classroom stories. Learn more.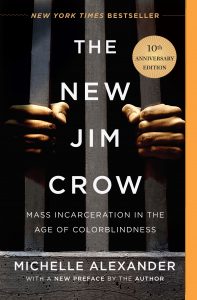 Teachers who use Zinn Education Project lessons have an opportunity to receive a free copy of The New Jim Crow: Mass Incarceration in the Age of Colorblindness, 10th anniversary edition.
Share your classroom story through our portal about any of the lessons published on our website and The New Press will send you the acclaimed book directly.
Seldom does a book have the impact of Michelle Alexander's The New Jim Crow. Since it was first published in 2010, it has been cited in judicial decisions and has been adopted in campus-wide and community-wide reads; it helped inspire the creation of the Marshall Project and the new $100 million Art for Justice Fund; it has been the winner of numerous prizes, including the prestigious NAACP Image Award; and it has spent nearly 250 weeks on the New York Times bestseller list.
In 2011, Rethinking Schools published an interview with Alexander about the school-to-prison pipeline. Alexander reflected that,
It's important for us to understand how school discipline policies have been influenced by the war on drugs and the "get tough" movement . . . Schools, caught up in this maelstrom, began viewing children as criminals or suspects, rather than as young people with an enormous amount of potential struggling in their own ways and their own difficult context to make it and hopefully thrive. We began viewing the youth in schools as potential violators rather than as children needing our guidance.
We are partnering with The New Press to make this book more widely available to teachers. This is not a contest and will run as long as supplies last. To qualify, please describe in 2-4 paragraphs how you used any one or more of our lessons. Please include a high-resolution portrait photo of yourself or photos of your students working on the people's history lesson.