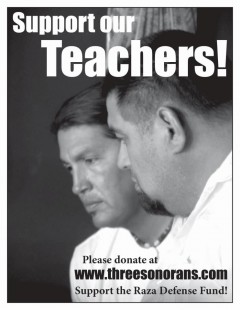 The Zinn Education Project joins the call for a National Day of Solidarity on Friday, October 12, 2012 with the Raza Defense Fund and the campaign to Save Ethnic Studies.
You are invited to participate by holding a house party to view the film Precious Knowledge. As the event organizers explain, the dual purpose is:
widespread education to further understand what is happening on the ground in Tucson, AZ, in terms of attacks on intellectual freedom, and
to gather funds that will go directly to the Raza Defense Fund to help with the legal defense for two of the Tucson Unified School District (TUSD) Mexican American Studies educators featured in the documentary Precious Knowledge.
If you would like to host a house party, send an email to info@saveethnicstudies.org to receive an information packet. There is also useful information for teaching about the attack on ethnic studies at the No History is Illegal web page.
To learn more about the attack on the Mexican American Studies program in Tucson and how teachers and students across the country have responded, check out a series of articles on the Zinn Education Project website.