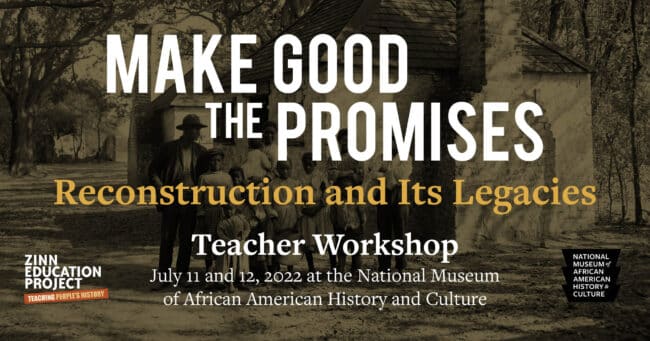 Teacher Workshop at the National Museum of African American History and Culture
July 11 and 12, 2022 | 9:30am – 3:30pm (in person)
Reconstruction, the era immediately following the Civil War and emancipation, is full of stories that help us see the possibility of a future defined by racial equity. Yet the possibilities and achievements of this era are too often overshadowed by the violent white supremacist backlash or false depictions of the era as a "failure."
To provide teachers an opportunity to explore how to teach about the rich history of the Reconstruction era, the National Museum of African American History (NMAAHC) and the Zinn Education Project are offering a two-day workshop for 30 middle and high school classroom teachers.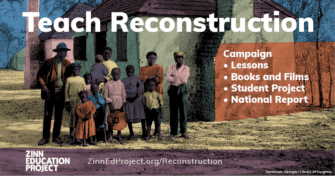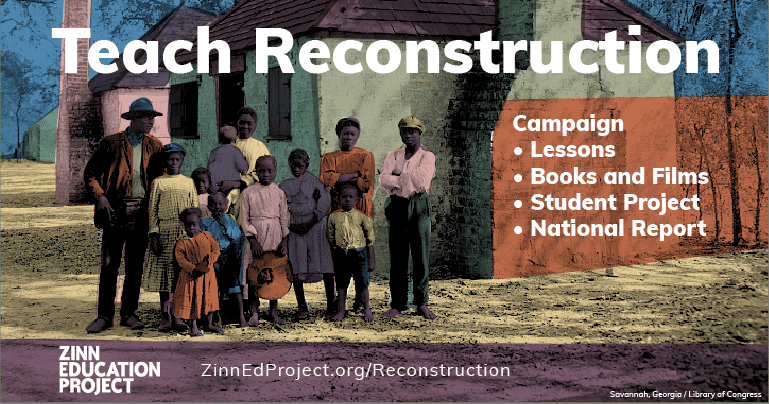 The workshop will be in person at NMAAHC (1400 Constitution Ave. NW, Washington, DC 20560), with time for participants to explore the special exhibit, Make Good the Promises: Reconstruction and Its Legacies.
Participants will also engage in middle and high school lessons from the Zinn Education Project Teach Reconstruction campaign, review primary source documents and audio resources, and share teaching ideas with peers. The content of the sessions will draw from the Make Good the Promises exhibit (and companion book) and the Zinn Education Project national report, Erasing the Black Freedom Struggle.
Logistics
This event is for middle and high school social studies or language arts classroom teachers, social studies curriculum specialists, and social studies methods teacher educators.
Lunch is provided. Participants receive copies of the lessons, professional development certificate, and two books, Make Good the Promises and Black Was the Ink.
The registration fee for the two days is $50. The fee can be paid when you register below or request an invoice if your school or other institution is paying.
Note that the workshop is for two days in D.C. If you are coming from out of town, you will be expected to provide your own travel and accommodations.
We will follow the NMAAHC safety protocols for COVID.
Registration will remain open until the workshop is full. Space is limited, so apply soon!
Register Below
The workshop is currently at capacity. Fill out the form below if you would like to be added to the waitlist in case there are cancellations. Please don't pay upfront, instead indicate that we should invoice you.