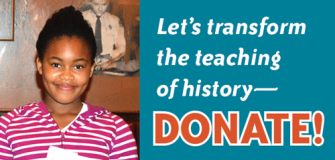 Dear Zinn Education Project friend,
As you may know, we launched our People's History Organizer Campaign last month, and the response has been encouraging. Please join the campaign to raise the final third—$40,000—of our goal.
With your help, we can:
Gather teachers to share lessons, strategies, and new curriculum
Provide teachers with full "people's history" units around key themes
Knit together our network to challenge some influential conservative textbooks.
Help teachers alert students to a fuller U.S. and world history—people's history.
Donate generously to lift this important project off the ground.
Sincerely,
Bill Bigelow, co-director of the

Zinn Education Project for Rethinking Schools

Deborah Menkart, co-director of the
Zinn Education Project for Teaching for Change
Ways to Donate

View all donation options

Online

Check

Stock

or donate through

Mail to:

Zinn Education Project

c/o Teaching for Change

PO Box 73038

Charles Schwab

Account Name:

Teaching for Change