"Howard Zinn's A People's History of the United States made me want to be a history teacher and James Loewen's Lies My Teacher Told Me gave me the drive to want to teach beyond the classic textbook-driven curriculum. Loewen's work has profoundly affected my teaching practice by cementing the commitment to instructing students to question and inquire as they 'do' history. I will share what I learned today about the Zinn Education Project and Loewen's new book." —Maureen Andreadis, Social Studies Department Chair at the School for Creative and Performing Arts, Cincinnati, Ohio
"James Loewen has changed the way I approach teaching history. For this reason I had to see him speak at NCSS." —William Newell, high school history teacher and social studies methods professor, Tampa, Florida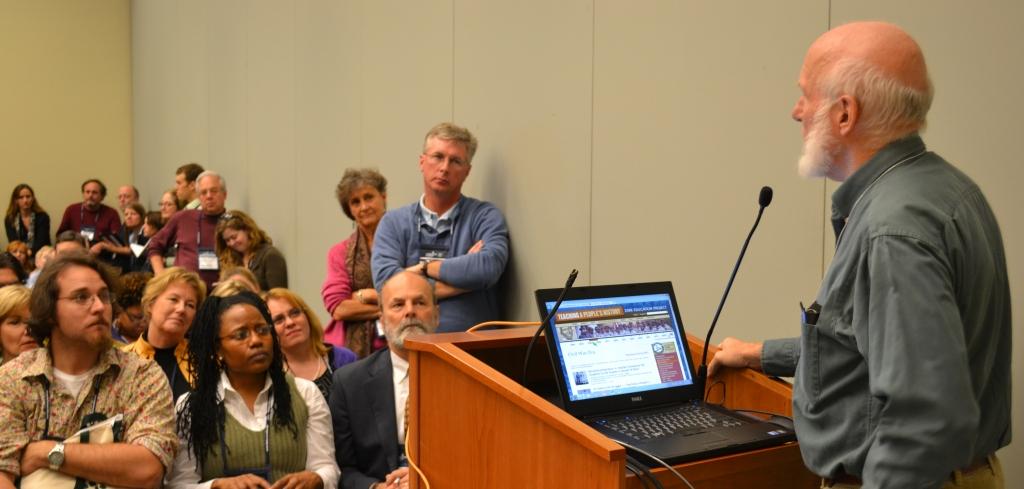 Historian and author James Loewen spoke to a standing room only audience in a session hosted by the Zinn Education Project at the National Council for Social Studies (NCSS) conference in Washington, D.C. on Dec. 3, 2011. More than 140 educators filled a room with an official capacity of 80 to hear about his latest book The Confederate and Neo-Confederate Reader: The "Great Truth" about the "Lost Cause."
Deborah Menkart welcomed the attendees on behalf of the Zinn Education Project and thanked NCSS for their support. She described how over 16,000 educators are registered on the Zinn Education Project website to get free downloadable lessons on teaching people's history. Deborah also encouraged everyone to support the Zinn Education Project by voting on the Working Assets/CREDO donations ballot.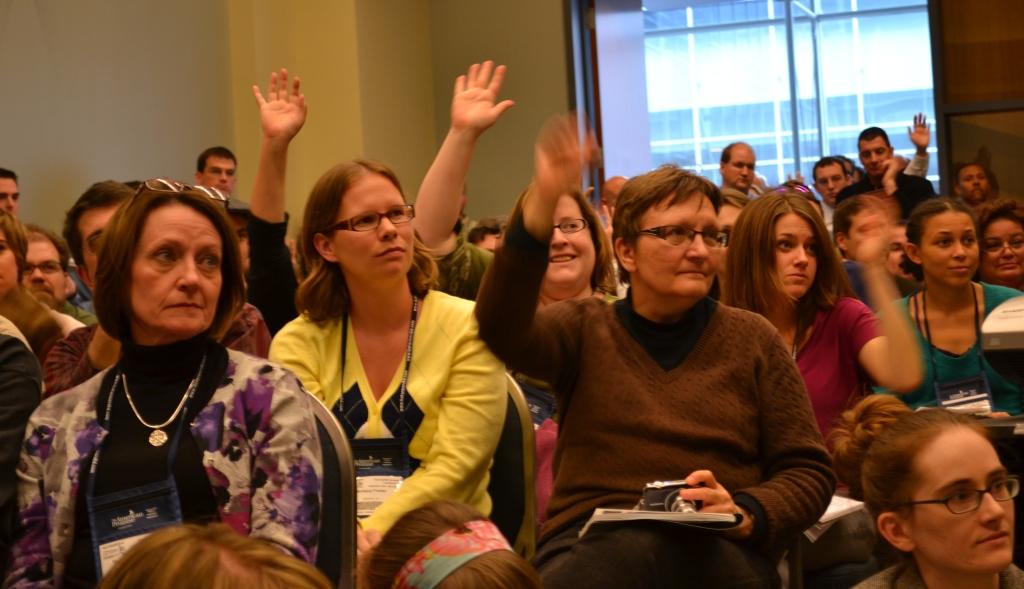 After a brief introduction, James Loewen began his presentation began by asking for a show of hands as to the primary cause of the U.S. Civil War: slavery, states' rights, taxes and tariffs, or the election of Lincoln. The attendees' majority response of "slavery" impressively contradicted a troublesome national trend crediting states' rights and other national economic and political issues as the causes. To highlight the misleading and inaccurate textbook analyses supporting these myths, Loewen read directly from the declarations of secession which explicitly cited the debate over slavery as their primary complaint. He advocated that classroom teachers reject attempts to reshape the Civil War narrative given his belief that "there is a reciprocal relationship between knowledge of the past and justice in the present."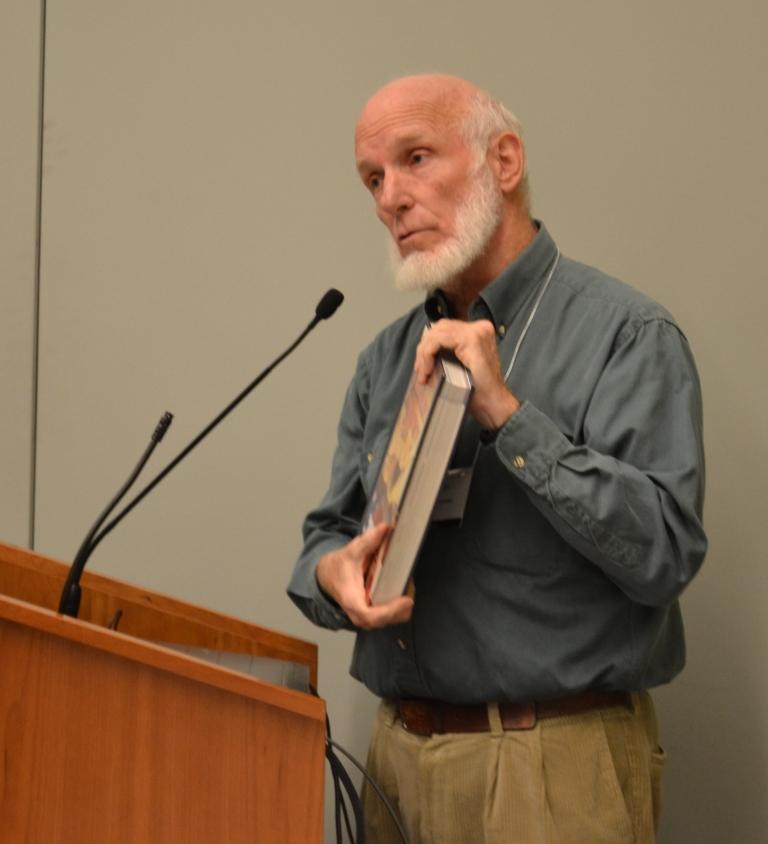 Following the formal presentation, attendees asked questions and made comments about a range of topics, including their frustration with state standards and tests that perpetuate textbook inaccuracies. Jim, a teacher from Virginia, read an excerpt of the Virginia Standards of Learning that included attributing the Civil War to a debate over states' rights. Loewen's recommendation was to instruct students how to answer the question on the test, and then ask them to write their state representatives to inform them of the errors. He also advised that U.S. history teachers abandon the compulsion to "teach everything" and instead try to thoughtfully address 30-50 topics that "touch base with the standards" rather than have the textbooks dictate a chronological race to the finish line.
The last question came from Brittany, a teacher who wondered if there was any hope for salvaging textbooks. Loewen took to task the committees who adopt books without reading them and historians for lending their names to books they clearly have not written or, as he asserted, have unlikely even read. "These poor eleventh graders are the only ones actually reading these books," he remarked. He then made a case for publishers to produce 300-page paperbacks that would belong to individual students. "There is no excuse today for heavy, hardback textbooks over 1,000 pages long with the web's digitized documents and resources like the Zinn Education Project."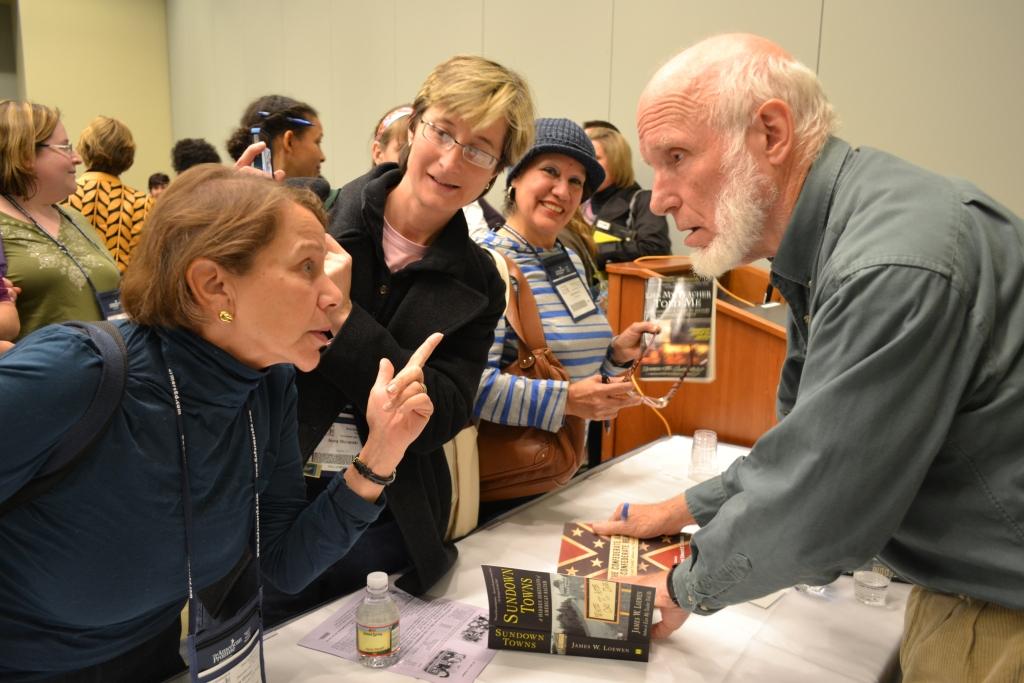 The session ended with a book signing. Many participants said they hoped to see Loewen at the 2012 NCSS conference in Seattle and thanked the Zinn Education Project for bringing Loewen to the 2011 conference.
Related Media
This story prepared by Katy Swalwell and also appears in NCSS Connected.