With regrets, this offer is no longer available.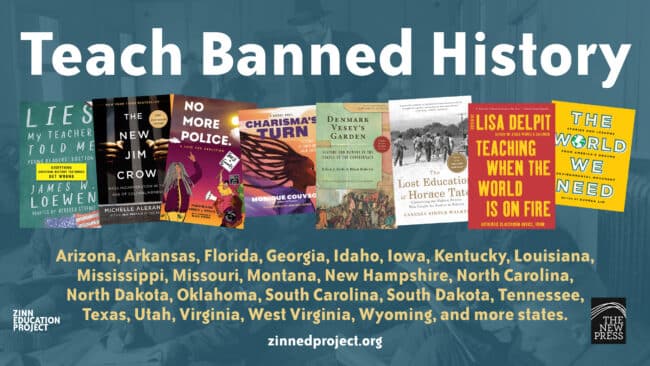 In the face of growing attacks on the teaching of history, The New Press partnered with the Zinn Education Project to send books to teachers and teacher educators in Arizona, Arkansas, Florida, Georgia, Idaho, Iowa, Kentucky, Louisiana, Mississippi, Missouri, Montana, New Hampshire, North Carolina, North Dakota, Oklahoma, South Carolina, South Dakota, Tennessee, Texas, Utah, Virginia, West Virginia, and Wyoming.
These books were offered in solidarity with teachers who insist on their students' right to study history and contemporary issues. The right wing seeks to indoctrinate students with a whitewashed narrative of history. Our goal is for young people to engage in intellectual inquiry, to pursue real questions about history, and to apply historical insights to contemporary issues.
The New Press donated 700 books for the Zinn Education Project to send to teachers and teacher educators.
Titles
The New Press titles that teachers could request are:
Charisma's Turn: A Graphic Novel by Monique W. Couvson
Denmark Vesey's Garden: Slavery and Memory in the Cradle of the Confederacy by Ethan J. Kytle and Blain Roberts
Lies My Teacher Told Me: Young Readers' Edition by James Loewen  
The Lost Education of Horace Tate: Uncovering the Hidden Heroes Who Fought for Justice in Schools by Vanessa Siddle Walker
The New Jim Crow: Mass Incarceration in the Age of Colorblindness by Michelle Alexander
No More Police: A Case for Abolition by Mariame Kaba and Andrea J. Ritchie
Teaching When the World Is on Fire: Authentic Classroom Advice, from Climate Justice to Black Lives Matter edited by Lisa Delpit
The World We Need: Stories and Lessons from America's Unsung Environmental Movement edited by Audrea Lim
Teachers could also request a printed copy of the 44-page Zinn Education Project Teach Reconstruction report along with their book.
There has been an enthusiastic response and all the books have been claimed.
Therefore, with regrets, this offer has closed.
See other free book and lesson offers below.
Thank you for your interest.

---
Not a Teacher?
We need your support. Donate to our #TeachTruth campaign in defense of teaching people's history, outside the textbook.
---
More Offers
The Rebellious Life of Mrs. Rosa Parks, young readers edition The Zinn Education Project and Beacon Press will ship five copies of the book to teachers and teacher educators anywhere in the United States.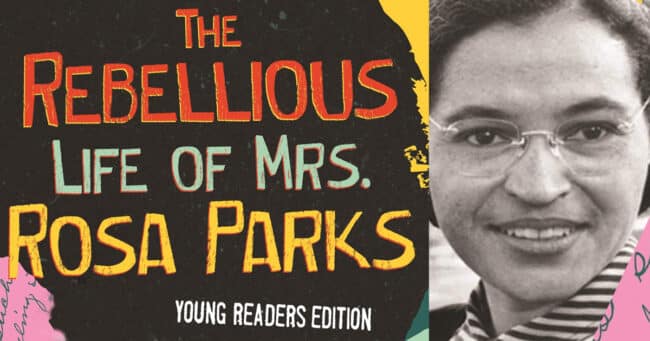 Teaching for Black Lives Rethinking Schools will ship this title to teachers and teacher educators in Florida.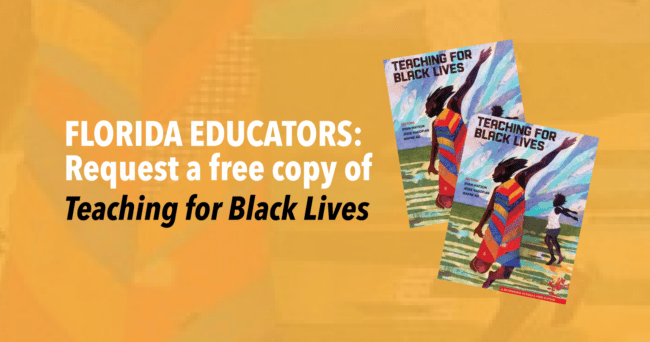 Defend Black History, Defend Black Lives Haymarket Books is offering selected titles as e-books for anyone to access and will send hard copies of books to young people in Florida.
People's History Lessons All the lessons at the Zinn Education Project website are free for teachers.