By Mike Leonard, The Herald Times Columnist
In July 2006, I wrote a column about sociologist James Loewen's research on "sundown towns"—-places where blacks were warned to leave before the sun went down.
A native of Illinois who for many years taught at the University of Vermont, Loewen was stunned to discover that his home state had nearly 500 such towns, and neighboring Indiana was just as bad.
The sociologist used that information to ruminate on Honda's then recent announcement that it would build a major manufacturing plant in Greensburg, Ind., a small, out-of-the way place where the black population had dwindled to virtually zero. "Honda has a reputation for locating in places that are as white as possible," he recounted in a telephone conversation last week. The reason, he said, is concern that blacks are more likely than whites to embrace unions and organized labor.
A person can accept or reject Loewen's work, but there is a methodology behind it. He specifically looked for communities of more than 1,000 people with a black population of less than 0.1 percent. He also had some hard facts—-old ordinances and signs that explicitly banned blacksafter sundown. He also heard but did not assign weight to anecdotal evidence as well.
This didn't go down well in Greensburg, other former sundown towns or Indianapolis, where Gov. Mitch Daniels took a great deal of the credit for luring the automobile manufacturing plant to the Hoosier State.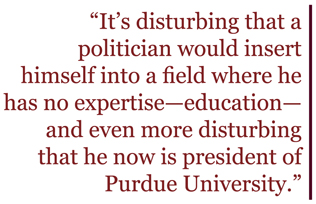 A year later, the sociologist was stunned to learn, two hours before leaving his Washington, D.C., area home to go on a speaking tour, that his four engagements in Indiana had been inexplicably canceled. To cut to the chase: "The initiative for canceling without a doubt came from the governor's office," Loewen said last week. "I don't think that Mitch got on the phone himself, but everything I subsequently learned pointed to the governor's office."
This is relevant to recall in light of the revelation that Daniels aggressively sought to prevent Hoosier schools from teaching historian Howard Zinn's "A People's History of the United States" or even using it as supplemental reading. It's disturbing that a politician would insert himself into a field where he has no expertise—-education—-and even more disturbing that he now is president of Purdue University.
Much has been written, and great outrage has been expressed, after the Associated Press revealed emails Daniels wrote, ordering subordinates to seek out and suppress any use of Zinn's work. Add professor emeritus Loewen to the list. "I thought it was amazing that a governor or at least, a governor's office, would try to cancel speaking engagements by a professor because of something he wrote at the History News Network, which is basically a blog," he said.
We might surmise that it fits a pattern. Daniels not only sought to censor Zinn's ideas and writings—-he attempted to punish an Indiana University-Purdue University professor who had used Zinn's work as supplemental reading.
Loewen resurrected his 2007 Indiana appearances rather easily, because the excuse given to him by the sponsoring Indiana Civil Rights Commission, "a lack of interest," proved to be patently untrue. (The commission reports to the governor's office.) Two speeches at Ball State University were well attended, and he spoke to a standing room-only crowd at IUPUI.

In March 2007, he spoke in Bloomington on a number of topics, including "How History Keeps Us Racist, and What To Do About It," and was a panelist for a forum on "The Racial Makeup of Our Community and the Legacy of Sundown Towns." He visited at the invitation of Bloomington United and the local ACLU.
Much of the criticism of Daniels' actions as governor focuses on his role as president of Purdue, a higher education institution where academic freedom is supposed to be sacrosanct. In his own defense, Daniels said he was focusing on preventing Zinn from being taught in the public schools.
"From the news stories I've read, it seems that Daniels is getting a pass for limiting his efforts to K-12," Loewen said. "Is there no academic freedom in K-12? Lots of people don't go to college." A majority of Hoosiers, in fact.
"They need to think through some of the issues that Howard Zinn raises as well," Loewen said. Long before Zinn came along, it was said that history is written by the winners. Zinn intentionally put a spin on traditional accounts of history to highlight the social movements and dissenters and downtrodden people who either moved society forward through their blood and tears or stand as evidence that powerful interests can and will destroy everything in their paths.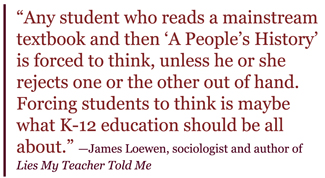 Ever read a history book that recounts the Manifest Destiny—-that it was God's will that America extend from the Atlantic to the Pacific—-and gives little notice to the genocide of native peoples sacrificed in the process?
"I would not teach a U.S. history course from 'A People's History of the United States,' but to use Zinn as a supplement to the flat history textbooks used all over the state of Indiana, we create a wonderful environment for students," Loewen said. "Any student who reads a mainstream textbook and then 'A People's History' is forced to think, unless he or she rejects one or the other out of hand. Forcing students to think is maybe what K-12 education should be all about."
____________________________________
Originally published in The Herald Times, July 21, 1013. Reprinted with permission by The Herald Times. Download a PDF of newspaper column.