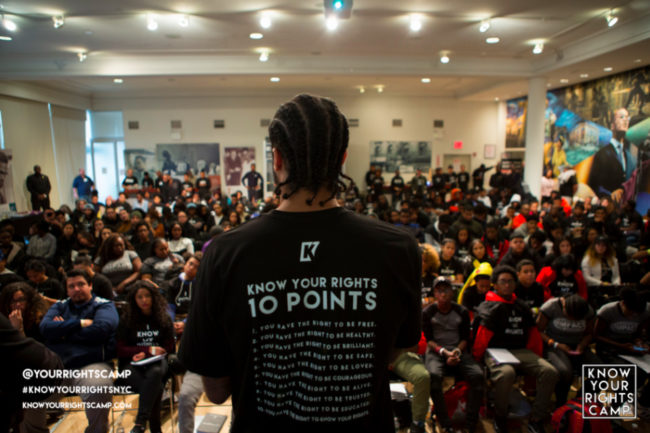 Colin Kaepernick and a team of organizers are offering a series of Know Your Rights Camps for youth across the country, where young people learn about health, history, criminal justice, higher education, and more. The Nation sportswriter Dave Zirin describes the power of this day-long event in "Colin Kaepernick's Message to Chicago Youth: 'Know Your Rights'." To take the learning home, participants receive a back-pack full of educational resources.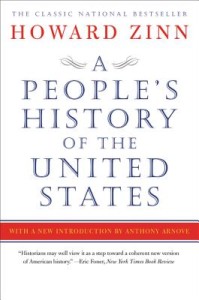 You can imagine how pleased we were to receive a request from Kaepernick to help provide copies of Howard Zinn's A People's History of the United States for the Know Your Rights Camp in New Orleans in January. Kaepernick wrote,
Just wanted to say hello and tell you how much I appreciate the work you do with Zinn Education Project. I think it's amazing, and extremely important, especially in times like today to be able to help people understand the history and how it applies to what we are going through currently. I have a youth camp called Know Your Rights where we empower children and teach them about finance, health, education, their legal rights, and history. I believe it would be extremely impactful to share the knowledge contained in A People's History of the United States. I normally arm the kids with information and books that they can learn from and use in their everyday lives when they leave the camps. —Colin
Thanks to a donation from Harper Collins, the Zinn Education Project sent 250 copies of A People's History of the United States for the youth in the New Orleans camp. We hope this becomes a standard text for the Know Your Rights Camp and that they can engage youth in people's history lessons. One of the 10 points in the Know Your Rights Camp platform is "You have the right to be educated." It is a testament to Kaepernick and his team that they are ensuring youth are educated about their history outside of the textbook so that they have to tools and analysis to lead in the future.
---
Below are a few photos of the youth in New Orleans. Click the images for more.