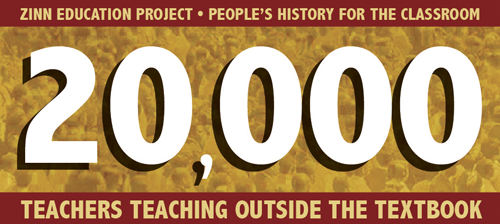 We reached the milestone of 20,000 people registered for the Zinn Education Project website, thanks to help with outreach from many of you. Registrant number 20,000 is Melody Schneider, a social studies teacher at Edmonds Community College High School Completion Department in Everett, Wash.
Melody explained why she registered: "We always look for materials and lessons that can speak to the students. My students and I are looking for truth in history, something real that they can connect to. They are sick of memorizing and regurgitating. They want to know what really happened to the people. This quarter I started using A Young People's History of the United States. I was looking for lessons to go with the book and found the Zinn Education Project. I'm so happy you all exist and do the work you do."
We have heard many stories like this from teachers all over the world when they register. You can read some of them here and send us your own.
Continue to spread the word and help us reach the next milestone of 25,000.