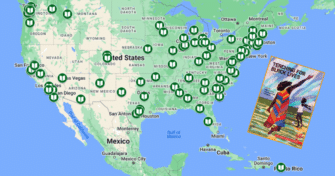 Across the country, right-wing legislatures have passed laws outlawing honest teaching about race and inequality. Books have been banned. Teachers fired. But despite this repression, educators everywhere continue to help their students think critically about the history of this country — and how they can play a role in making the world more just.
This is the Zinn Education Project's fourth year of nurturing communities of anti-racist educators by sponsoring Teaching for Black Lives study groups across the United States. Study groups receive a copy of Teaching for Black Lives and a Rethinking Schools subscription for each participant, a year-long menu of workshops and seminars to choose from, and access to a network of social justice teachers across the United States.
This school year, more than 100 study groups are investigating what it means to teach for Black lives.
---
Spotlights
This year's study groups represent 35 states, including Arkansas, Nebraska, and Oklahoma. We also have a study group in Puerto Rico for the first time. Additionally, more than 50 alumni members continue to participate in a study group, building on work from past years. A majority of participants are teachers. Several groups include administrators, librarians, counselors, and support staff.
Read why educators are forming a study group this year:
Beyond the dynamics of our own school community, the Arkansas state legislature is becoming increasingly hostile to conversations in schools about justice. While we continue to teach honestly to best serve our students, we also know that we must actively pursue opportunities to cultivate our response to these threats with knowledge, compassion, and an unwavering commitment to justice. — History teacher in Arkansas
This is more about survival than it is about politics. We must equip ourselves to speak truth to power in an intelligent and articulate manner. I believe that there is a sizable, silent contingent that will help us fight if we equip leaders. We want to be not only equipped to counter the lies, but offer alternative, positive solutions for false and often exaggerated problems. — Teacher in Oklahoma City, Oklahoma
We will continue to teach truth, with inclusivity in mind, from a place of love no matter what, because we know what will move us forward. We are excited about organizing teachers and creating a private space for them to be fully honest and human in the midst of these dehumanizing and difficult times. We have a deep feeling this will yield great resistance and social change. These are the times where courage and integrity make a difference. — Lorena Germán, former classroom teacher and co-founder of #DisruptTexts, Tampa, Florida
---
Coordinators' Reflections
Two coordinators share the impact of hosting a study group.
T.J. Whitaker


Maplewood, New Jersey




Lindsay Paiva
Providence, Rhode Island
---
Campaign Interviews
Every year, more than a thousand educators participate in the Teaching for Black Lives campaign as a part of a national network of teachers, school librarians, counselors, administrators, and school staff. These educators defy efforts to ban what students can learn in school by vowing to teach for Black lives.
Participants reflect on their experiences in the audiograms below.
---
Study Groups Light a Fire of Hope in Hard Times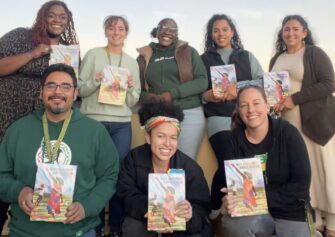 No doubt, this moment calls for copious forms of organizing — in our unions, at our local school and library boards, in collaboration with community and parent groups. But as we fight the wave of attacks on education, it is critical that we ground ourselves in what we are fighting for, not just against.
Small, educator-led communities of study and reflection can provide that grounding. Study group members have told us that their groups are a vital source of strength, support, and guidance during an impossibly difficult time.
Having a reliable and deeply thoughtful group of allies in my community was so powerful and supportive during this difficult year. I drew strength every day at school knowing that my study group colleagues were there and would be supportive of my practices. — Kate Milano, teacher, Salem, Massachusetts
---
Apply Now
Form a Teaching for Black Lives Study Group

There's still time to join the 2023–2024 Teaching for Black Lives study group cohort – apply now. Study groups receive copies of the Teaching for Black Lives book, a Rethinking Schools magazine subscription for each participant, and access to an array of classes and workshops throughout the year.
Educators report that the study groups not only deepen their knowledge and improve their practice — they also increase their resolve to continue teaching honestly. And they provide a community of accountability and mutual support.
Here is what study group members tell us:
In days of Trumpism, scorched-earth campaigns against "critical race theory," and shameless anti-Blackness, this Teaching for Black Lives study group was a life preserver.
Joining a Teaching for Black Lives study group helped me realize that equity is the lens through which all other education work happens. It's NOT "one more thing" on my plate. It is the plate!
---
Classes and Conferences for Social Justice Educators
Check out the list of upcoming events hosted by the Zinn Education Project and our colleagues — including the Zinn Education Project: Teach the Black Freedom Struggle online series, The Freedom to Teach: Confronting Complex Themes in Contested Spaces conference in Florida, the 16th Annual Northwest Teaching for Social Justice Conference, and the National Council for the Social Studies conference in Nashville.
---
Bring Study Groups to More Schools
Defend Teaching for Black Lives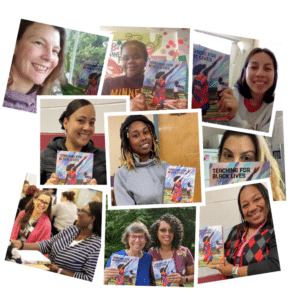 Teaching for Black Lives study groups are the best defense against right-wing fear tactics and anti-history education legislation. Teachers gain a learning community on anti-racist education and the collective courage to teach truthfully.
We need your support to double the number of Teaching for Black Lives study groups in the next school year. Donate today.