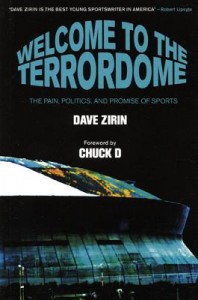 From the bashing of Barry Bonds to the stormy marriage between hip-hop and the NBA; from the "baseball factories" of the Dominican Republic to the inspiring legacy of Roberto Clemente — Dave Zirin looks past the shiny surface to what's really happening in the locker room, the boardroom, the arena, and the stands.
The word "Terrordome" can't help but call forth memories of Hurricane Katrina. In 2005, when the Superdome took in its thousands of residents, the world witnessed the gruesome collision of sports and politics as American citizens sat stranded in a sports arena where most could never have afforded even the cheapest ticket.
Dave Zirin lives there, at the crossroads of a sports culture that celebrates bling and the multi-million-dollar endorsements, and a political culture loathe to recognize, let alone help, the millions of Americans battling poverty and oppression.
Welcome to the Terrordome: The Pain, Politics, and Promise of Sports grapples with this cultural contradiction.
Within these pages readers will encounter some of the most unique and astute sportswriting they've ever read about complex social problems that rarely make it to the sports page. Zirin's on a mission for, as he argues, only "a politics of athletic protest that both looks to its proud history and amplifies the voices of our twenty-first-century sporting rebels will chart our way out of the Terrordome."
This sharp, incisive books takes up the questions untouched by mainstream sports reporter, like: Why can't Clemente's "#21" be retired along side Robinson's "#42"?; As basketball grows away from the hip-hop, street-game roots that led to its resurgence in the eighties into an NBA world where players wear ties decorated with diamond studded clips, can basketball survive the blood fight between commercialism and individual expression with its integrity, and fan base, intact?; and most importantly, where do we see the next Jackie . . . the next Clemente . . . Jim Brown . . . Kareem . . . Ali.
The polished corporate public relations juggernauts of professional sports often make teams, agents, and athletes seem like finely tuned PR machines, able to answer questions with the perfect sound byte and little honesty. Zirin delves deeply into the complex culture of sports, its own tangled web of social inequality, and argues that it has a responsibility to confront that inequality in the locker room and the larger world. He calls injustice what it is, and his unflinching reporting will inevitably hit a raw nerve and stoke debate. [Publisher's description.]
ISBN: 9781931859417 | Haymarket Books