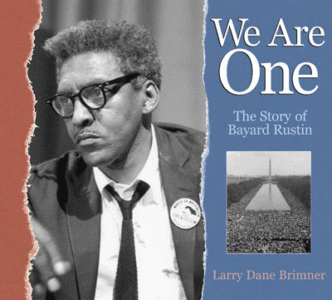 In an easy-to-read format, this picture book for ages 8 and above tells the story of Bayard Rustin, who played a critical role in the Civil Rights Movement. Through his life story students learn about: the activists and intellectuals of the early 20th century who often visited his home, his imprisonment as a WWII conscientious objector, A. Philip Randolph and the Brotherhood of Sleeping Car Porters, the lunch counter and bus protests that began long before 1954, the philosophy of nonviolence, and how the 1963 March on Washington for Jobs and Freedom was organized.
While one of the few books for upper elementary and middle school on the life of Bayard Rustin, a major shortcoming of the book is that his gay identity is limited to the author's note at the end.
 Reviews
An effective mix of major historical events and small, telling anecdotes, along with the attractive photo-essay format, make this a fascinating volume, informative and well written. —Kirkus
Brimner sets Rustin's personal story against the history of segregation in his time and focuses on his leadership role, largely unacknowledged, in the struggle for civil rights. On each page, the clearly written, informal text is accompanied by eloquently captioned archival photos that include disturbing images of racist violence, as well as stirring pictures of Rustin "in protest mode," passing out antiwar leaflets, advising Dr. Martin Luther King on peaceful protest, organizing the triumphant 1963 March on Washington, and more. A big part of Brimner's book is the great leader's work behind the scenes and the possible reasons why he has not received the attention he deserves—brief membership in Communist party and his imprisonment for peace activism in World War II. Rustin's gay identity gets only passing mention in a final author's note. Source notes and a bibliography will guide readers to more about the man and to his writings. —Booklist
ISBN: 9781590784983 | Calkins Creek/Boyds Mill Press
More information about Bayard Rustin in a bio on QuakerInfo.com.