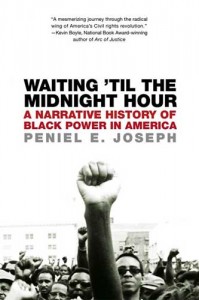 Scholar Peniel E. Joseph provides such a rich history and analysis that anyone reading it will immediately want to challenge the traditional curriculum that portrays the Black Power Movement as the evil twin of the Civil Rights Movement while over simplifying the Civil Rights Movement and treating the Black Power Movement as "too hot to touch." In Waiting 'Til the Midnight Hour, Joseph provides a complex and engaging picture of both movements, and the inseparable relationship between the two. He shatters many of the assumptions about the Black Power Movement, including when it began, its relationship to electoral politics, the range of key figures, and international relations.
Film Clip from a Talk about Waiting 'Til the Midnight Hour
Peniel Joseph critiques how textbooks typically invite students to contrast Martin Luther King Jr. and Malcolm X as if they were polar opposites.
Transcript: "What I want to talk about today is Martin and Malcolm and while acknowledging the divergences, really look at the way in which their political lives at times intersect and the way in which the movements that both men led, both antagonize and inspire each other. We usually think about Martin and Malcolm in polar opposites, people are either Malcolmites or they're for Dr. King and even the partisans don't realize how nuanced and how complicated and how rich these men's lives and political activism were. Most historians and most scholarship really writes Malcolm out of American history and world history.
Malcolm becomes a singular figure, the iconic prophet of rage, who's not looked upon as an intellectual, who's not looked upon as a political organizer, who's not looked upon as a grassroots mobilizer. After Malcolm X's assassination on February 21, 1965, Malcolm becomes the patron saint of black power militancy. While making Malcolm a saint, Martin Luther King Jr. is made out to be an Uncle Tom. We get a neat trajectory, a Martin Luther King Jr. who from '65–'68 is a radical, but who really from '55–'65 is kind of a sellout. Here is the problem with that. King is consistent in calling for the radical transformation of American democracy.
Malcolm X is talking about pan-Africanism, robust radical self determination, really confronting American democracy's jagged edges. Both political activists are going to be talking about social, political, and cultural transformation. King is going to argue that American democracy is resilient enough to make changes that are vital to the health of that democracy. Malcolm X is going to be skeptical of democratic principles and traditions, and their resiliency. What we see are two political activists who are trying to shape and transform the very infrastructure of American democracy. Certainly Malcolm's attempts at transformation utilize rhetoric that's much more blunt, rhetoric that's much more candid, but it's also in service of a radical project for human rights. For the 21st century, activists who are advocating for racial justice and political empowerment actually need both aspects of these political icons and their thought.
So when we think about King and Malcolm, and I'll close here, in a pre-multicultural age, where race shaped hope, opportunity, and identity, both Martin Luther King Jr. and Malcolm X attempted to redefine both black identity and American democracy and in the process the political activism and reverberations of both of these political activists would scandalize and transform American democratic traditions and principles."
Publisher's Description
Waiting 'Til the Midnight Hour re-imagines the Black Power Movement, beginning a decade before Stokely Carmichael's defiant call for "Black Power!" in the stifling heat of Mississippi in the late spring of 1966. Along the way readers are introduced to a cast of historical characters — both iconic and obscure — that are international in scope. These include William Worthy, the globe trotting foreign correspondent, Dan Watts, the maverick publisher and activist, Albert Cleage, the radical clergyman from Detroit, and James Baldwin, the novelist whose essays came to distill the very essence of American racial life in the waning days of the New Frontier. Malcolm X was the common denominator that united black radicals from far-flung corners of the nation and, over time, the world. Covering the years 1955-1975, Waiting Till the Midnight Hour is a sweeping reinterpretation of the Black Power Movement. On virtually every single page, the narrative uncovers buried intimacies of a tumultuous era.
We follow Malcolm X from urban street corners to Ghanaian Universities and back. Malcolm's relationship with local activists introduces us to a world where black militants waged political war in urban settings far from the national spotlight. A detailed narrative of the Meredith March uncovers historically obscured connections between Martin Luther King and Stokely Carmichael, while its aftermath reveals a federal intelligence bureaucracy intent on neutralizing the Black Power Movement's most charismatic spokesman. We witness massive race riots in 1967 juxtaposed against Stokely Carmichael's remarkable international speaking tour.
We experience domestic and international shockwaves of 1968 through the buildup to Huey P. Newton's murder trial and the Black Panther Party's short-lived alliance with SNCC. We witness Black Power's high point during the early 1970s, through parallel narratives that focus on Black Panther co-founder Huey P. Newton and black nationalist poet turned activist, Amiri Baraka. Along the way the Black Power Movement is placed in its appropriately rich and historic context: The struggles to redefine black identity through art and culture; Political movements for self-defense and community control; Pan-Africanist impulses that connected domestic freedom to African decolonization movements; and tactical alliances between black nationalists and elected officials.
A number of diverse, indelible, portraits emerge; Attorney General Ramsey Clark's efforts to hold the line against FBI and White House fueled prosecutions against militants; Lyndon Johnson's private vendetta against Stokely Carmichael; The Black Panther Party's extraordinary ascent and tragic decline; Angela Davis' political struggles during the early 1970s; the rise of Amiri Baraka and how his fall from grace parallels Black Power's declining fortunes. Contoured by new archival evidence and oral histories, this deeply researched and luminously written narrative history offers a bold and brilliant new perspective destined to become a classic.
Reviews
"In writing this wise and dazzling display of literary elegance and expert excavation, Peniel Joseph has vaulted into the front ranks of interpreters of this nation's most explosive era." —Gerald Horne, Professor of History, University of North Carolina, Chapel Hill and author of Red Seas: Ferdinand Smith & Radical Black Sailors in the U.S. and Jamaica
"A mesmerizing journey through the radical wing of America's civil rights revolution." —Kevin Boyle, Professor of History at the Ohio State University and author of the National Book Award-winning Arcof Justice: A Saga of Race, Civil Rights and Murder in the Jazz Age
"Provocative and masterfully written." —Robin D. G. Kelley, William B. Ransford Professor of Cultural and Historical Studies, Columbia University and author of Freedom Dreams: The Black Radical Imagination
"Marks the dawn of a new black narrative history; nuanced, deeply-researched, and brilliantly insightful." —Manning Marable, Professor of Public Affairs, History and African-American Studies, Columbia University and author, most recently, of Living Black History
"With rigorous scholarship, Peniel E. Joseph has done a great service toward the understanding of this complex history, enabling the spirit of those times to reach into the present through the voices of those who participated." —Lewis R. Gordon, Laura H. Carnell Professor at Temple University and co-editor of Not Only the Master's Tools and A Companion to African-American Studies
"The challenge in writing a history of Black Power rests in negotiating a maze of political, social, and economic forces, balancing the interplay of local, national, and international events, respecting the influence of big and small actors, and appreciating the rich intellectual inheritance that informed this movement. Waiting 'Til the Midnight Hour tells this story with sensitivity to the connection between the smallest historical detail and the broad sweep of black struggle."" —Craig Steven Wilder, Professor of History, Dartmouth College and author of In the Company of Black Men
"Eloquent and scenic, Waiting 'Til the Midnight Hour has just the sweep, force and drama appropriate to its subject, the foundations and the course of Black Power. At home with discussing great leaders in the context of the mass activity that made their history-making possible, the book moves — as the movement itself did in its best moments — easily and aptly back and forth between North and South, the local and the global, the political and popular." —David Roediger, Kendrick C. Babcock Professor of History, University of Illinois at Urbana-Champaign and author of Working Toward Whiteness: How America's Immigrants Became White
"Peniel Joseph takes us beyond the simplistic and superficial treatments of the Black Power Movement to present that movement in all its complexity, and in its historical context. It is a dramatic story, carefully researched, and deserving of our attention."—Howard Zinn, Professor Emeritus of Political Science, Boston University and author of A People's History of the United States: 1492-Present
ISBN: 9780805083354 | Henry Holt and Co.
Full lecture about the book available on C-SPAN Book TV.