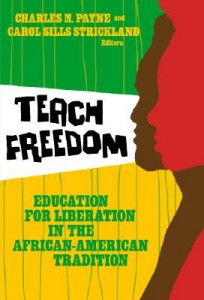 The self-conscious use of education as an instrument of liberation among African Americans is exactly as old as education among African Americans. This dynamic anthology is about those forms of education intended to help people think more critically about the social forces shaping their lives and think more confidently about their ability to react against those forces.
Featuring articles by educator-activists, this collection explores the largely forgotten history of attempts by African Americans to use education as a tool of collective liberation. Together these articles explore the variety of forms those attempts have taken, from the shadow of slavery to the contradictions of hip-hop.
Contributors address "Lessons from the Past" and discuss Citizenship Schools in the south, Ella Baker and the Harlem Y, Mississippi Freedom Schools, and Black Panther Liberation Schools. Contemporary models are covered as well, demonstrating the depth and tenacity of the tradition in such efforts as the Freedom Schools established by the Children's Defense Fund. [Publisher's description.]
Contributors
Chris Myers Asch  • William Ayers • Charles E. Cobb Jr.  • Sekou M. Franklin  • Jonathan Gayles  • Hollyce C. Giles  • Deanna M. Gillespie  • Steven Hahn  • Michael G. Hayes  • Charles E. Jones  • Carol D. Lee  • David Levine  • Ernest Morrell  • Robert C. Morris  • Daniel Perlstein  • Randolph G. Potts  • Fannie Theresa Rushing  • Gale Seiler  • Susan Wilcox.
Editors
Charles M. Payne is the Frank P. Hixon Distinguished Service Professor in the School of Social Service Administration at the University of Chicago. His books include the award-winning I've Got the Light of Freedom: The Organizing Tradition and the Mississippi Freedom Struggle.
Carol Sills Strickland has served as associate editor for the journal New Schools, New Communities, and on the editorial boards of the Harvard Educational Review and Afterschool Matters.
ISBN: 9780807748725 | Teachers College Press