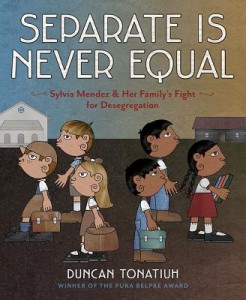 Although written and illustrated for upper elementary school, even adults will learn a lot from Separate is Never Equal about the Mendez v. Westminster desegregation case in California that preceded Brown v. Board.
Author and illustrator Duncan Tonatiuh tells the story of how Mexican-born Gonzalo Mendez and Puerto Rican Felicitas Mendez challenged the separate and unequal school system in California. They moved to Westminster during WWII and their children were sent to a run-down school for Mexican American children. The book highlights the role of Mendez as an organizer — galvanizing other parents and legal support to pursue an equal education for all children. The illustrations are in Tonatiuh's distinctive, folkloric style. [Description by Rethinking Schools.]
ISBN: 9781419710544 | Abram Books for Young Readers
---
Four other Orange County families joined the Mendez family in the class action lawsuit to fight against Mexican American school segregation. These include the families of Thomas Estrada and William Guzman of Santa Ana, Frank Palomino of Garden Grove, and Lorenzo Ramirez of Orange. Too often the other plaintiffs are left out of this history. It is important to recognize their struggles and commitments.