This teaching guide is for use with the song and film, "Sun City: Artists United Against Apartheid." Artists United Against Apartheid was founded by Steven Van Zandt and record producer Arthur Baker in 1985 to protest apartheid in South Africa. The group produced the song "Sun City" and the album Sun City that year.
The performers included Miles Davis, Bob Dylan, Peter Gabriel, Jimmy Cliff, Bruce Springsteen, Jackson Browne, Run-D.M.C, and Lou Reed. Journalist and filmmaker Danny Schechter worked with Van Zandt to convene the performers for "a song about change not charity, freedom not famine." Schechter also produced two films: Sun City (see below) and The Making of Sun City. Read more about the Sun City album in a Rolling Stone article, where it was named one of the 100 best albums of the 1980s.
The refrain of "I ain't gonna play Sun City" is a simple one, but the issues raised in the song and film are not. The lyrics — "phony homelands," "constructive engagement," "separation of families"—  assume some student familiarity with the system of apartheid.
While this guide offers many teaching ideas for "Sun City," it does not attempt to provide a comprehensive look at the apartheid structures. For that, teachers should use Strangers in Their Own Country: A Curriculum Guide on South Africa.
It is recommended that this curriculum be taught before students view the "Sun City" video. However, the film can be used effectively as an opening lesson, a way of generating student questions: Why is it so bad to play Sun City? What is "quiet diplomacy"? What are "phony homelands" and who separates families?
Published by Africa World Press.
Sun City Lyrics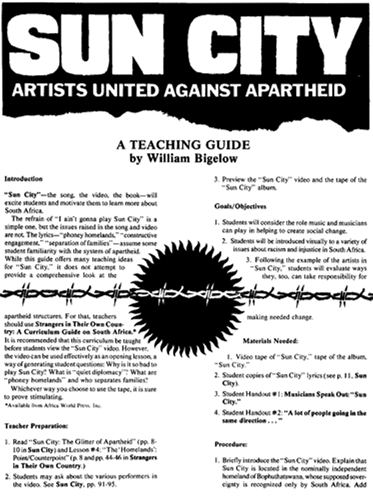 Names of performers featured in the music video with their respective lines
We're rockers and rappers united and strong (Run-DMC)
We're here to talk about South Africa, we don't like what's going on (Melle Mel & Duke Bootee)
It's time for some justice, it's time for the truth (Afrika Bambaataa & Kurtis Blow)
We've realized there's only one thing we can do (Big Youth & all rappers)
I ain't gonna play Sun City
Relocation to phony homelands (David Ruffin)
Separation of families I can't understand (Pat Benatar)
23 million can't vote because they're black (Eddie Kendricks)
We're stabbing our brothers and sisters in the back (Bruce Springsteen)
I ain't gonna play Sun City
Our government tells us we're doing all we can (George Clinton)
Constructive engagement is Ronald Reagan's plan (Joey Ramone)
Meanwhile people are dying and giving up hope (Jimmy Cliff & Daryl Hall)
This quiet diplomacy ain't nothing but a joke (Darlene Love)
I ain't gonna play Sun City
It's time to accept our responsibility (Bonnie Raitt)
Freedom is a privilege, nobody rides for free (Ruben Blades & John Oates)
Look around the world baby it can't be denied (Lou Reed)
Why are we always on the wrong side (Bobby Womack)
I ain't gonna play Sun City
Bophuthatswana is far away (Run-DMC)
But we know it's in South Africa no matter what they say (Kurtis Blow & Africa Bambaataa)
You can't buy me, I don't care what you pay (Duke Bootee, Melle Mel & Afrika Bambaataa)
Don't ask me Sun City because I ain't gonna play (Linton Kwesi Johnson & all rappers)
I ain't gonna play Sun City
Relocation to phony homelands (Jackson Browne & Bob Dylan)
Separation of families I can't understand (Peter Garrett)
23 million can't vote because they're black (Nona Hendryx & Kashif)
We're stabbing our brothers and sisters in the back (Bono)
Words and music by Little Steven ©, 1985 Solidarity Music