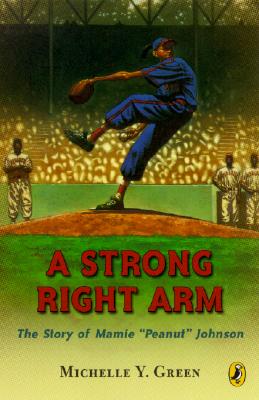 Motivated by her love for the game and inspired by the legendary Jackie Robinson, Mamie "Peanut" Johnson (September 27, 1935 – December 19, 2017) was determined to be a professional baseball pitcher. But in a sport dominated by white men, Black woman were not allowed.
Mamie doesn't give up — from the time she insisted on trying out for the all-male, all-white Police Athletic League team until she realized her dream and became one of only three women to play in the Negro Leagues. [Publisher's description.]
In the introduction, Mamie "Peanut" Johnson speaks directly and movingly to the reader about her meeting with author Michelle Y. Green, who then lets the famous ballplayer tell her own story in a lively first-person narrative. Johnson's ebullient personality and determination fairly leap off the page as the biography follows her from her childhood on her grandmother's South Carolina farm and her personal struggle against discrimination ("this colored girl thinks she can play ball") through her breakthrough and triumph on the team. The short, action-packed chapters are illustrated with occasional photos of Johnson and of other players she knew, including Satchel Paige, who taught her how to throw the curveball ("The first thing you gotta do, little missy, is stop squeezing the ball so tight"). — Booklist
ISBN: 9780142400722 | Puffin
Also, see the National Visionary Leadership Project interview with Mamie "Peanut" Johnson.